Minecraft PE 1.16.20
More than two weeks passed since we published the article on
Minecraft PE 1.16.100.50
and we were all wondering where the MCPE developers got lost. Happily, they are ok but were busy developing a new game version for us to try. This is Minecraft PE 1.16 20.
The version contains a lot of changes, but we are familiar with a big part of them from the previously released betas.
New Features in Minecraft Bedrock 1.16.20
Like you already know, there is a new mob living in the Nether and this is the Piglin Brute, a tougher version of the custom Piglin (see picture below)




This version also contains all the crafting interface updates mentioned in Minecraft PE 1.16.20.53

Resolved the crash affecting the PS4 users when other users wear custom skins, another one that used to happen each time when the MCPE user
pushed on the Manage account button and one happening when using high-resolution packs

The Switch MCPE users are already able to upload their MCPE worlds to Realms

PS4 users can host up to eight players

A problem not letting the Hot Tourist destination achievement get unlocked was resolved

If the MCPE user is playing offline and meets all the requirements for getting a specific achievement, it will unlock as soon as he/she connects to the internet

The error affecting the custom skins in multiplayer was resolved

You won't be able to equip emotes unless you unlock them now

The bug preventing iOS users from getting in-game notifications was resolved

If you break a furnace, it will now drop the gained XP

Boats won't move slower than usual if interacting with items that have no collision

Nether features will not generate in MCPE worlds that have a fixed game version

Chests and loot tables were corrected. Previously they failed to generate loot

The bug preventing people who play in split-screen from seeing the End Dragon was resolved

The bug preventing zombies from spawning under the ground was resolved

The maximal spawning radius of mobs will be of forty-four blocks now

Bubble columns can serve as spawning areas for dolphins, and other underwater inhabitants again

The bug preventing baby pigs from despawning normally was resolved

If playing in Peaceful game mode, Hoglins won't attack you even if you are standing close to them

Piglins will be spawning with their weapons already enchanted

Piglin Brutes will be spawning with their weapons already enchanted (see picture below)

Piglins will now spawn even in Peaceful game difficulty mode

Shroomlights are not used by Piglins for spawning anymore

If you kill a Piglin while it is admiring a golden ingot, it will drop it

If giving a golden ingot to a baby piglin, it will not get consumed

Some players noticed that if giving a Piglin a golden ingot and reloading the world, the Piglin might drop a full stack of these goods. From now on, it will drop a random item from its loot table (see picture below)




Piglins are not able to lift gold ingot stacks anymore

The broken arm animation of mobs that from which a weapon is removed was resolved

The bug making domesticated wolves disappear in case they use a Nether portal to travel to the Overworld was resolved

Walls will connect normally to trapdoors from now on

If breaking blocks beneath pumpkin stems, they will break too. This fix also affects the melon stems.

The slime blocks that are pushed using pistons will launch players as required now

The bug not letting the players place beehives was resolved

The bug not letting the players place honey blocks was resolved

The incorrect light level produced by soul campfires was corrected

From now on, you will need as much time to destroy hyphae blocks as you need for doing the same thing with the stem blocks

From now on, you won't be able to use pillar quartz blocks and chiseled quartz blocks for crafting quartz blocks

The bug affecting the Barrel recipe was fixed

Now you can create quartz bricks only using quartz blocks and this can be done only in a stonecutter

The bug making items made of netherite jump on top of the lava was fixed

The problem regarding duplicating things if a Piglin admires golden ingots and the MCPE user reloads the MCPE world was resolved

Zoglins do not emit the same sounds as the pigs now

Newly introduced sounds playing when putting on a netherite armor

Newly introduced sound playing when climbing a vine

Newly introduced sounds playing when walking on warped planks

The bug making the wither health bar turn back to zero as soon as more than half of the health is gone was fixed

The bug preventing the wither health bar from being shown in case the player returns from a different dimension was resolved

You won't see the "Open" tooltip every time when you look at a Piglin now

Improved command /fill

The bug preventing command blocks from working properly was fixed

Other several fixes related to some frequently used commands

The broken geometry of drowned in content packs were fixed
Below we also want to show you what a Nether Respawn Anchor looks like in case you don't know. Use it to set a respawn spot in the Nether.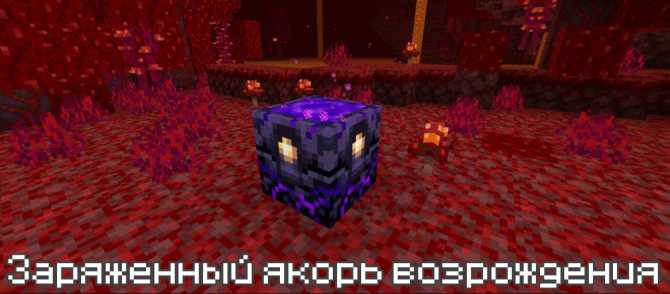 Here is also what the Nether Warped Forest is like. Fantastic, isn't it?


Dear friends, as you can see, there are many changes that are already familiar to us from the previous betas and many new ones. If you want to try Minecraft Bedrock 1.16.20, click on the download button, share the news with all your friends, and leave feedback.
Follow our
website
and you will also be up to date with the
latest game versions
and many other MCPE-related articles with free download buttons. Have fun!
Video Trailer of Minecraft PE 1.16.20
We are in social networks