Minecraft PE 1.19
Last year was a very successful, but hard one for the Mojang team. They have managed to develop and release the full Caves and Cliffs Update, namely
Minecraft PE 1.17
and
Minecraft PE 1.18
. We had enough time to explore these two versions and the rest of the updates that were meant to fix bugs and change some features for the better. Now we think we are ready for another grand update. We already know what it will be named. This will be the Wild Update aka
Minecraft PE 1.19
. The game developers already allow us to enjoy some of its features by enabling a new experimental features toggle. This possibility came with the release of
Minecraft PE 1.18.10.21
. A lot of other features that won't be available until the legendary release, but by reading this article to the end, you can at least learn about what to expect.
Features of Minecraft Bedrock 1.19
New places
The MCPE developers are planning to improve and redesign the already existing biomes and make the difference between them more noticeable. This will give the player the feeling that he/she visits really unique places when traveling.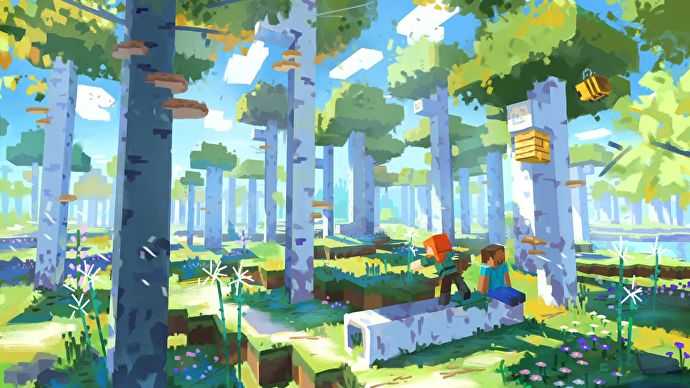 In addition, they will add two unique biomes:
The Mangrove Swamps. Here the players will discover a sort of tree called Mangrove. These trees are really tall and can grow both in water and on the ground like most of the trees do. Thanks to their size and beauty, they will make the environment very picturesque and even mysterious. These trees can be chopped and used to obtain wood that can be further used in crafting stairs, doors, or any other things that are usually made of wood.
This biome will also host new mobs, but we will talk about them later.




The Deep Dark. Initially, the MCPE developers were planning to introduce this subterranean biome into the game in Minecraft PE 1.19 but decided to postpone it for the Wild update because there is still a lot of work to do in its relation. Even if it is also located underground, this place is totally different from the caves we got used to. It represents large and complex corridors where the players will discover ruined cities covered in skulk. Skulk grows thanks to Skulk Catalysts. These are blocks that become active when mobs die near them. The most noticeable feature of the Deep Dark is a very interesting new mob, so keep reading if you are curious to find out who this is.

New mobs
When this update will be finally released (hopefully soon), you will meet several cool mobs, namely:
Frogs. The developers decided that players can meet these little new mobs even before the grand release so they have introduced them in Minecraft PE 1.18.10.24. Their presence can be enjoyed by turning on the Wild Update toggle that we mentioned in the beginning. Baby frogs known as tadpoles can be collected using buckets and depending in what biome the player decides to take them, they will grow into adult frogs of a specific type. There are three frog types: tropical, snowy, and default. Each of these types has its individual behavior and color.




Fireflies. Besides bees, there are not very many insects in Minecraft Bedrock, but only until the release of 1.19. When this will happen, fireflies will start flying around our gaming worlds, mostly in swamp biomes. These little flying creatures glow when it is dark and are absolutely innocent. They can become food for several other mobs, including frogs.

Allays. These mobs became the winners of a contest called "community mob vote" which was organized in 2021. They represent little blue flying creatures that remind us of fairies. Their specific feature is that they collect items from the players and bring them back in stacks after going through a special procedure. The game developers warn us that we shouldn't expect that the allays will mine. To obtain stacks of items from them, we will have to collect these items individually and give them to the allays.




Warden. This is the mob we were talking about when we described the Deep Dark biome. This giant creature will live only here. What we know about him is that he is blind but extremely powerful and dangerous, because he has a very advanced sense of hearing. He attacks not only players but any other mobs that go near him. The MCPE developers have several advices for the players if they decide to visit the Deep Dark biome in order to avoid the Warden's attacks. These are: to be as quiet as possible (sneak), to wear Netherite armor, and to avoid him rather than try to fight him.




Other features
Boats with chests. These kinds of boats are so useful on trips. You will be able to load anything you need without having to think about how to transport your belongings separately. Thanks to the attached chests, having too little place in the inventory won't be a problem anymore. The bad thing is that if you get attacked by another player on a server while traveling on your boat, your chest with everything inside it may sink in the water.




Mud. Mud comes in blocks and can be found in the Mangrove Swamps that we talked about a little earlier. These blocks generate naturally, but players can also craft them by adding some water on top of dirt blocks. When combined with dripstones, mud blocks can transform into clay which is very useful in building structures. Mud blocks can also be transformed into mud bricks. Using them, you can build houses.




For now, this is everything we had to relate to the upcoming update, but if you are subscribed to our
website
, we will inform you as soon as we find out something more about it. For more details, watch the video trailer below. Have fun!
Video Trailer of Minecraft PE 1.19
We are in social networks