Minecraft PE 1.14.0
Are you ready to meet the new
Minecraft PE 1.14.0
, also called the Honey Version that brings not only useful fixes but also a swarm of bees and other related mobs and blocks for you to interact with in your worlds? You will find everything about it in the description below, but first we have to remind you that while using this beta, you won't be able to access Realms and other MCPE players using non-beta versions, that this beta is going to replace your Minecraft work in progress, so you'd better save your worlds and that the worlds created in 1.14.0 cannot be accessed using older game versions. To avoid losing them, make copies.
What's new in Minecraft Bedrock 1.14.0
Bees:
We will talk about the game fixes a little later, because we are sure that you want to find out about the new mobs as soon as possible.
The bees are peaceful little mobs developed to make the MCPE environment more vibrant and fun to spend time in. Anyway, if you are too curious and bother them, they will sting you. We don't recommend attacking bees, because after they sting the player, they die and their death is useless since they don't drop anything.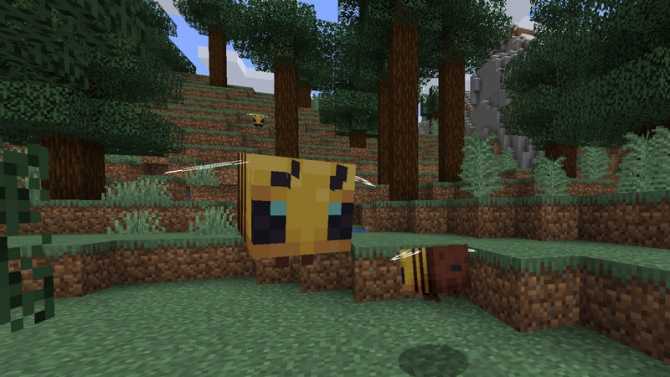 Like real bees, the MCPE ones are very fond of flowers and they use to collect pollen, taking it to their home nests.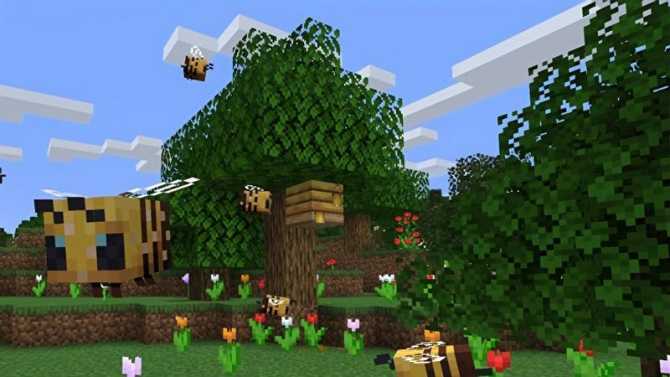 To breed bees use flowers (of course).
In case a bee does not succeed to find any pollen, it returns to its nest for a period of time after which it continues the search. Sometimes it happens that a bee does not have a nest of its own to return to. In this case, it will fly around the place until it finds an available one.
Bees are active during daytime and sleep during the nighttime. They tend to avoid the rain.
Nests and beehives:
Such nests spawn in a natural way in flower forests, sunflower plains, and other similar biomes.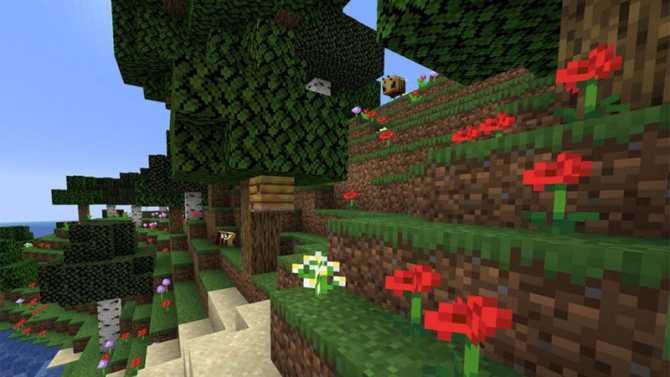 The bees have five honey levels to complete, and every time they returned undisturbed to their nests, their level increases. If you feel that the bees in a nest are more restless than usual, you can calm them down by starting a campfire. The smoke coming from it will make the bees quiet.
To craft beehives, you will need wood planks and honeycombs. You know how to obtain wood planks, but to get honeycombs, use shears when the level of honey we talked about above is at max. If you want to obtain a bottle of honey, use an empty bottle (the same rule as for obtaining honeycombs).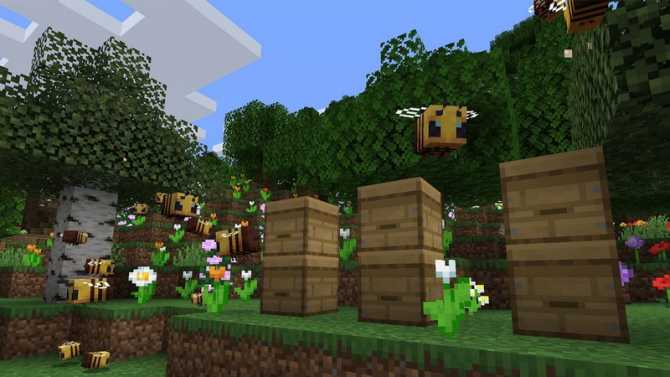 To obtain a block with bees, use the silk touch. If you try to obtain it in any other way, the bee nests will be destroyed.
Honeycomb and bottles of honey:
Read above to see how to obtain honeycombs and bottles of honey. Another feature of this game beta in relation to the sweet product is that you can fill bottles with either honey or water by using the dispenser. The dispenser can also shear honeycombs from bee nests.
Honeycomb blocks:
The beta brings very pretty decorative blocks with a honeycomb pattern.
Honey blocks:
These blocks look absolutely awesome. They are able to reduce the speed and the jump which is useful sometimes. They also reduce the fall damage if the player slides on them when falling, which is very useful in parkour maps. If you move a honey block using a piston, the blocks around it will move too. If any mob is on top of these blocks while you move it, they will move too.
This is all on the chapter regarding the new mobs in MCPE, but Minecraft Bedrock 1.14.0 brings more changes:
The player will be able to use leads on more mobs now. These are ocelots, parrots, and others.

The XP amount dropped by mobs was tweaked, this meaning that most of the existing animals will drop up to three XP (except the dolphins who drop no XP).

Besides the great new features, the MCPE developers also worked to fix some known game issues and crashes:

The animation related to breaking in some packs was fixed.

The skin picker displays capes properly now and more fixes in regards to capes

The "beam me up" achievement is obtainable now and causes no lags.

More improvement work in regards to the Character Creator.

Fixed the minecart sounds

Crossbows will not fire as soon as they are loaded now.

Arrows, as well as tridents rejected by a shield, will not fall through the ground now.

If the player jumps on farmland blocks, they will transform into dirt blocks

The attack distance of foxes was reduced

There are no items held by foxes being displayed invisible

The health bar of the ridden custom entities is displayed properly now

The inventory of llamas displays equipped carpets properly.

As you can easily understand by reading the description above and by watching the video trailer below the article, there is a lot to try and explore in Minecraft Bedrock 1.14.0, so don't lose any more time: download it by clicking on the button below, share it with all the possibly interested friends and leave feedback.
In case you need or want to try other
game versions
, visit our
webpage
. Here you can also discover a lot of great
maps
,
mods
,
texture packs
, and
seeds
. Have a good time!
Video Trailer of Minecraft PE 1.14.0
We are in social networks