Minecraft PE 1.13.0
Minecraft PE 1.13.0
brings us lots of updates, fixes, unique features, absolutely new mechanics and many other things. All of them can be tested by you and your friends right now. We'll take one more minute of your time to memorize you that it's only a beta version. Lots of new features may be added in a further release, your worlds and builds may work. Finally, you won't be able to have a party with friends who don't participate in the beta testing.
New features in Minecraft PE 1.13.0
First of all, don't forget to turn the Experimental Gameplay on. It'll allow you to test all the new features with comfort and appropriate conditions.
The list of diverse additional features, novelties and improvements is really long so there is no time to waste! Let's begin offering all of them right now.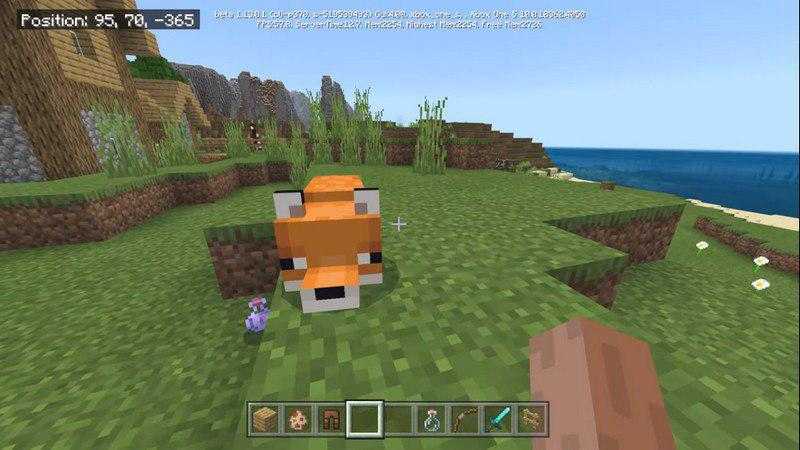 A new mob — fox. This new beautiful beast will have two different types: simple red fox and white fox, which will spawn in snowy biomes. Polar bears will attack foxes in any way. Fox can be tamed by the player. Tamed fox is able to carry diverse items in a mouth and defend player as a dog. Carrying item can be eaten by the animal, so be careful, diverse items may cause unexpected reactions.
You're able to choose needed coordinate, using the TAB button, when putting any command. Structure blocks were improved and renewed.
Lots of bugs from previous versions were fixed. Some problems with optimization and diverse animation issues won't disturb you during the gameplay anymore.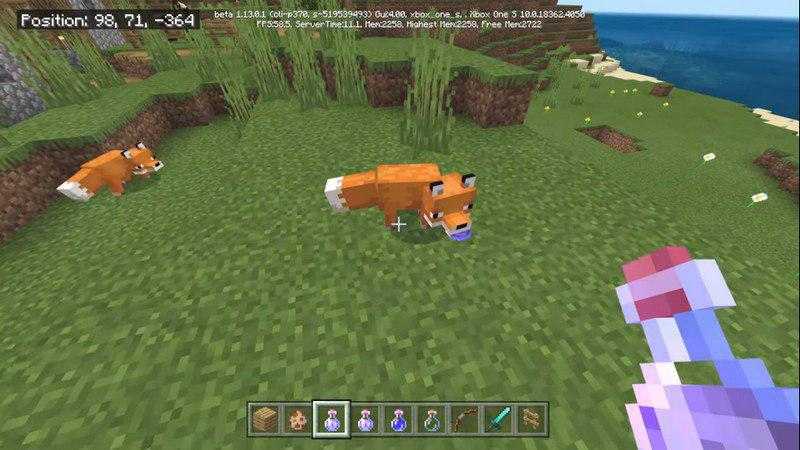 Minor problems with UI were fixed. Graphics rendering won't occur freezes and uncomfortable situations. Typing any text onto a sign won't cause troubles. Grass blocks grow with a correct speed now. Beacons will make the correct sounds. The message after trying to load the previous version's world is correct. Leads can now be connected to diverse creatures in an appropriate way. The info about using the Elytra and a Pumpkin to fly and protect yourself from the Enderman was updated. There'll be any problems with the sounds of a furnace anymore. Skin Picker menu shows the correct order of diverse skins, which were chosen before. Armour Stands will now correctly show the armour on them. Invisibility effect of diverse types of armour was removed. Activated TNT blocks won't fall down under textures.
Some new behaviours of diverse messages, caused by different player's actions. Chat settings were fixed and changed.
Lots of novelties for Map and addon makers. New interesting abilities in this interesting occupation. Lots of new functions are now available, so if you're a map creator – you have to test all of them with yourself. Lots of objects are now data-driven. Some events were added and updated. Some spawning logics, generations and algorithms were renewed and you'll be able to check them now!
Mobs behaviours were also changed. Explosions won't push the golems back. Pathfinding of a ravager was fixed so there won't be any problems with it anymore. Some death and animations look naturally now. Iron doors can't be broken by the zombie. Diverse baby animals got some new animations during diverse actions.
Diverse changes in blocks. Different types of stone, like diorite and andesite, can't be smelted into a smooth stone anymore. You can change the wooden blocks directions while placing. Some blocks have the correct textures after updating (pistons and other moving blocks). Some changes in the appearance of different items in your inventory. Animations of switching items in the hand were fixed and are shown correctly now.
Download full version of Minecraft Bedrock Edition 1.13.0 for Android - MCPE 1.13.0.34 and enjoy these and many other novelties of a new version of Minecraft with friends. Leave feedback, check these links for more
Mods
,
Skins
,
Seeds
and
Maps
for
Minecraft
and share your impressions in comments below.
We are in social networks