Minecraft PE 1.19.50.23
This week we have two more new game versions to explore, namely
Minecraft PE 1.19.41
that you already know about, and
Minecraft PE 1.19.50.23
that we will describe below.
New features in Minecraft Bedrock 1.19.50.23
Before getting to the traditional fixes and modifications done in relation to the older game features and other aspects, we want to tell you about the freshly-improved features brought by
Minecraft PE 1.20
:
Bamboo Wood Set: From now on, you will notice that the Raft with Chest is the correct name for the bamboo raft with Chest and that the tooltips use the word "raft" instead of "boat" as it did before.

Hanging Signs: Now, in addition to all the already available blocks that signs can be hung on, you can also attach them to bamboo blocks. The sounds made by the signs when attached to a block does not depend on the block's volume. Such signs do not replace big dripleaves and other similar plants and cannot be attached to saplings, for example, bamboo ones. Mobs can pathfind around such signs and when interacting with them, players will see the correct tooltips.

Camels: Even if this is tempting, you won't be able to ride a camel through deep waters anymore. Initially, camels will load in a sitting position. Now, these animals are able to auto-step up to one and a half blocks and do not have to jump.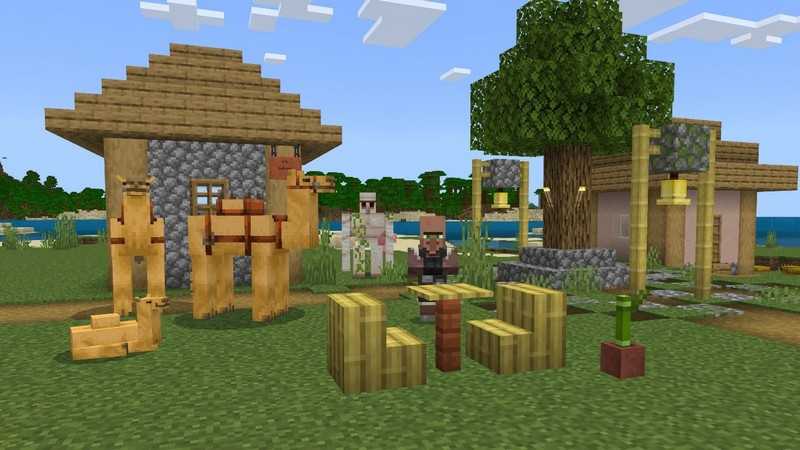 Besides these changes, the game developers also added two new functions:
canPlace
and
trySetPermutation
.
And now, let us briefly describe the rest of the changes brought by this beta:
Pushing a boat with piston does not make the boat vanish

Book and Quill can be opened, edited, and signed

The texts displayed in Realms is of the correct lengths and fit the screen and the dialog box

Entering Realms that haven't been used for a while will not make players get error messages

Blocks that have certain mobs attached, for example, bee hives do not provoke lags in the inventory

The new Touch Controls Dismount Button has a normal texture

Actions done with the hopper do not provoke server lags

The mouse cursor does not act weirdly on Xbox devices

The color of the text for chosen item stack count is not yellow as before, but white

Players get a correct death message when killed by mobs with renamed weapons

In addition to all this, you will also notice that the game developers fixed several less critical issues affecting Spectator Mode, the game's graphics, and commands used in the content creators' activity.
To try the update, click on the download button below the video trailer and install it.
Subscribe to our
website
if you didn't have the time to do this until now, and we will inform you about the main changes done in relation to the game. Have fun!
Video Trailer of Minecraft PE 1.19.50.23
We are in social networks