Minecraft PE 1.18.10.24
Earlier in the morning, we published an article about
Addon TemperaturesBedrock
which is a really cool addon. We hoped that by giving our subscribers the possibility to try it, we will make them happier and we would appreciate it if you could leave feedback letting us know if we succeeded in this task or not. Anyway, this article is not about the addon, but about another very nice surprise provided by the Mojang team, so today you will have a very busy but interesting day! So, they have released a new beta, and what a beta!
Minecraft PE 1.18.10.24
brings a new and very cool mob in addition to bug fixes and technical updates the team carries out regularly.
New features of Minecraft Bedrock 1.18.10.24
In the article about a beta released a couple of weeks ago, namely
Minecraft PE 1.18.10.21
, we mentioned that there is a new experimental toggle called The Wild Update. Then it included only the skulk block features, but the game developers promised to introduce more features and happily, they keep their promise. Starting with the current version, by enabling this toggle you will meet
Frogs
! You can find them in swamps. Monitor them and you will see that they are able to walk on land, swim, jump, and make characteristic sounds. In the future, you will be able to breed and tame them with seagrass, but for now, you can feed them just for fun. Frogs can mate and as a result, they spawn eggs. When these eggs hatch, they spawn little baby frogs also known as tadpoles. Unfortunately, when on land, the tadpoles do not survive for a very long time. Their favorite activity is swimming in the water. You can collect tadpoles with a bucket just like you do with fish.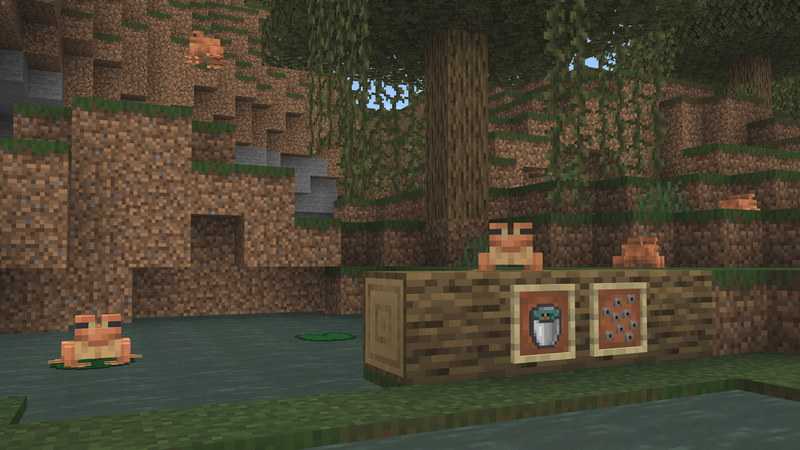 We hope that you are excited about this new mob, but now, it is time to learn about the rest of this beta's features. These are:
The HUD fades the player's screen to black when he/she sleeps in a bed

The camera will move correctly and smoothly when the player sneaks

A bad omen effect given by the pillager captain does not make players gain particle effects

When a villager refuses to trade for any reason, he makes a No sound now

The Ender Dragon does not turn invisible when it flies in the direction of the portal fountain

The game does not crash when the player is around a village anymore

The game does not crash when the player takes off his/her armor anymore

The item names do not overlay the armor bar anymore

Globe Banner Pattern was added to Bedrock

Command /kill works properly when attempting to kill entities using Absorption

Command /replaceitem works properly in relation to mules and donkey chests

Players can now attach balloons to a lot of mobs including the domestic and wild animals, water-living creatures (squids, dolphins), hoglins and zoglins, etc.

Like they usually do, the game developers carried out more technical updates too.
Dear players, hurry and try this version because we are sure that you can't wait to test the new possibilities and meet the above-described frogs and their babies!
Keep following our
website
and we will keep you informed about all the upcoming
game versions
and other game-related news. Have fun!
Video Trailer of Minecraft PE 1.18.10.24
We are in social networks