Minecraft PE 1.17.32
Last week we learned about
Minecraft PE 1.17.30
and
Minecraft PE 1.17.40.21
, one of them being a full version and the other a beta. This week the MCPE developers did the same, but with fewer changes. Because we always prefer starting with what's most important, we will start with
Minecraft PE 1.17.32
full version.
New features in Minecraft Bedrock 1.17.32.02
Unfortunately, this version does not bring any legendary new features as other full versions do, but instead, you will discover that the game developers succeeded in resolving six very serious issues.
The crash happening when the player attempted to use the Marketplace sidebar was fixed

The problems of content failing to load even when the internet connection is ok were resolved

The problem of the light blocks making players spawn on the Overworld surface was resolved

The bug preventing the Looting enchantment from working as intended was fixed

A bug making Nintendo Switch users see an error message when uploading certain worlds to Realms was fixed

The problem of chunks disappearing when re-entering an existing world having the Experimental Features toggle on was resolved

In addition to all these issues, several more crashes that could happen during the gameplay were fixed too.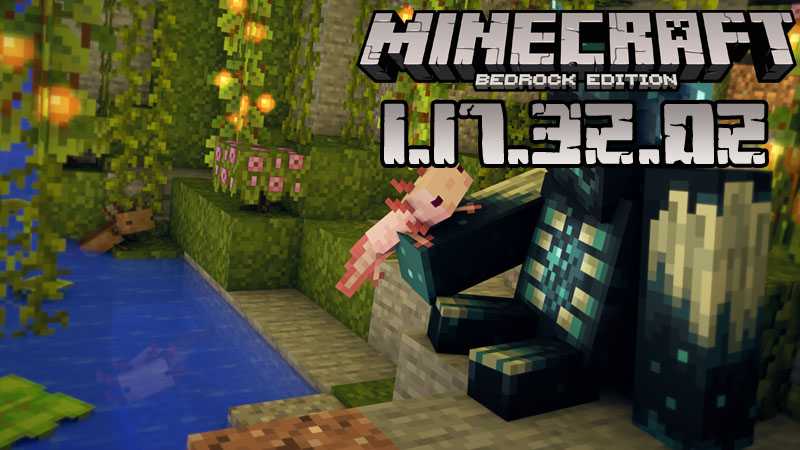 Now when you know about this version's release and about its features, share the article with other bedrock fans and leave feedback.
To be informed about when the article about the second version released this week is published, subscribe to our
website
. This way you will also be notified about the newest
maps
,
textures
, etc. have fun!
Video Trailer of Minecraft PE 1.17.32
We are in social networks