Minecraft PE 1.17.0.54
Because you chose to subscribe to our
website
, it is our duty to keep you informed on the latest game-related news. Today we will explore
Minecraft PE 1.17.0.54
. This is the newest beta version and it brings interesting changes that affect both the experimental features and hose that are not experimental anymore. There is also very important news for those who are skilled enough to create MCPE addons and maps.
You will find out everything there is to know about this update, but first, as we always do, we will tell you about a few features concerning beta versions:
The builds created in a beta version are rather unstable compared to the builds created in a full version

A newly-installed beta always replaces the MCPE work in progress. This is why the developers recommend making and keeping copies of the existing worlds

The worlds created in a current beta cannot be accessed using older game versions. Because of this, it is also recommendable to keep a copy of the world in case you are planning to use an earlier version in the future

While using a beta, the player cannot play with people using full versions

While using a beta, the player cannot access Realms

New features in Minecraft 1.17.0.54
There are fewer and fewer experimental features left, because, as you know from the articles about
Minecraft PE 1.17.0.50
and
Minecraft PE 1.17.0.52
, the developers started removing them from under the experimental toggles. Anyway, they made a few changes regarding some left experimental ones:
The mineshafts located below –y level will contain minecarts with chests now

The strongholds located in large caves are located a bit different than before now

Shulkers are able to teleport even below the 0=y level now

And now, let's see what is there to discover about the rest of the features (the non-experimental ones):
Several issues not letting players use command /kick as intended were fixed

An issue making Command Block Minecarts bypass gamerules was fixed

An issue preventing users from setting the "E" key in their keyboard settings was fixed

The issue not letting the cursor change its speed when the user modifies its sensitivity level in the settings was fixed

An error preventing blocks from breaking in case they fall on Shulkers was fixed

The spy glass was replaced from the Items Creative tag to the Equipment tab

An issue making offhand items render incorrectly when looked at through a spy glass was fixed

An error making rooted dirt turn into farmland block immediately when tiled was fixed

Piglins admire not only ordinary gold, but also raw gold now

When meant to fill cauldrons, stalactites drop water with a bigger frequency now

The probability of obtaining screamer goats by breeding normal and screamer goats is higher now

When dropping glow ink, glow squids will make a specific sound now (this is also available for normal squids and ink)

An error making existing signs text color brighter than the new signs was fixed

An error making copper emit a wrong sound when waxed was fixed

An error making copper emit a wrong sound when dewaxed was fixed

An error preventing leaves from rendering correctly when they are placed on copper slabs was fixed

Spore blossoms cannot survive when in the water anymore

The textures of compasses were improved

The textures of the clocks were improved

The textures of the raw ores were improved

By breaking copper ores, the player will obtain up to three raw coppers (this is also available for deepslate copper)

Users will have to use nine copper ingots to craft a copper block

Extreme hills biomes contain infested deepslate blocks now

Jumping on powder snow won't protect players from falling into it anymore

The mining time of powder snow was modified

The issue preventing mobs from pathfinding on powder snow was fixed

Skeletons that are inside powder snow will transform into strays instead of freezing

Axolotls won't be able to move individually when pretending they are dead and they also cannot pretend they are dead when on land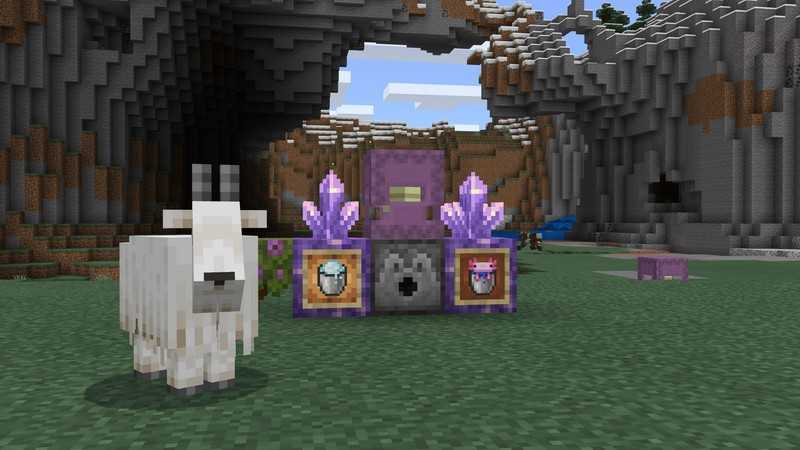 At the beginning of the article, we also mentioned that this beta brings good news for the addon and map creators too. The best one is the fact that the developers added the possibility to create volumes in the MCPE world (for example fog volumes).
For more information about the new game update, watch the video trailer below this article,
We are sure you can be a very good friend to other MCPE users, so please share the news about this release with them and leave feedback to let us know your opinion on it.
Continue to follow us and we promise that you will be among the first to find out about other upcoming versions and about the newest
textures
,
mods
, and other game-related surprises. Have fun!
Video Trailer of Minecraft PE 1.17.0.54
We are in social networks