Minecraft PE 1.17.0.52
Remember
Minecraft PE 1.17.0.50
? That was the first beta version of the grand Caves and Cliffs update. Today we will explore the features of the second one, that is
Minecraft PE 1.17.0.52
. We assure you that you won't be disappointed because this release is as interesting.
Please note that this isn't a full version yet, so the builds created in it may be a little unstable. You should also remember that it is a must to make and keep copies of your existing worlds before installing the beta, otherwise, you risk losing them. Unfortunately, while trying this update, you won't be able to play in Realms or with people using full versions.
Changes in Minecraft 1.17.0.52
Like you already know from the previous beta, the developers finally started eliminating the Caves & Cliffs-related features from under the experimental toggle. Last time they have removed only the glow item frames and the powder snow. This time they went further and removed the dripstones and pointed dripstones, the glow squids and ink, the goats, and all the raw ores. Now all these wonderful features are officially part of the game and you don't have to enable any toggles in order to enjoy them.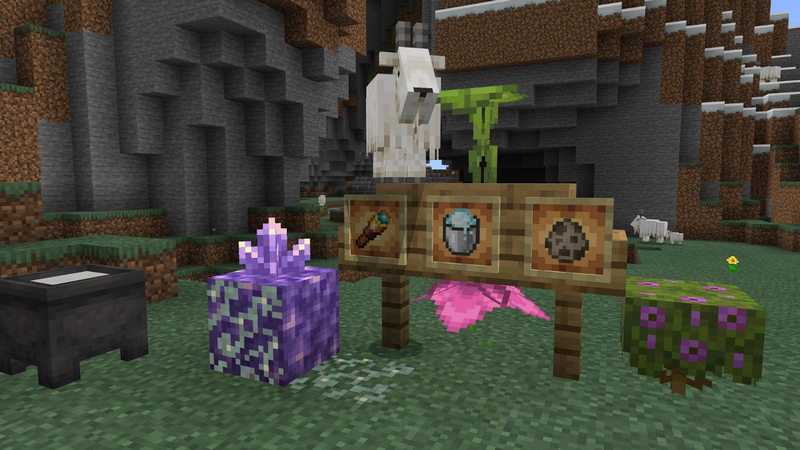 The developers also made some interesting changes affecting these and other caves & Cliffs features:
In case an axolotl gets dehydrated, it can be saved using bottles with lingering water

In case an axolotl gets dehydrated, it can be saved using bottles with splash water

Axolotls were made to swim more than before

The sounds made by axolotls were fixed (previously some were missing)

Axolotls' spawn rate was modified

Players can now repair their damaged tools on anvil and to do this they can use cobbled deepslates and cobblestones

When it snows, cauldrons will gradually fill with powdered snow

Most of the mobs won't fall through blocks of powdered snow instead of walking on them

Mobs that are within powder snow will gradually freeze and in the end, they will suffer from freeze damage

Powdered snow can be collected with a bucket

The map colors of the glow squids were changed

Goats won't drop mutton upon death anymore

The player's creative inventory was enriched with lush caves, deepslates, spy glasses, amethysts, and the rest of the blocks introduced in the previous beta

The map colors for azalea were modified

The map colors for flowering azalea were modified

Players can now place small dripleafs on moss

Water will drop from the stalactites

Players can make trees grow by bonemealing saplings on moss

Players can get more drops of raw ingots when applying a fortune enchantment

The localization of the Caves and Cliffs toggle was replaced

Dear players, as you see, there is a lot of exploring to do in Minecraft 1.17.0.52, but hold on a few more minutes, because we want to tell you about the fixes that were carefully carried out by the hard-working game developers:
A bug making the underwater fog look similar in absolutely all the biomes was fixed

A bug not letting the view distance modify as the player advances was fixed

An error preventing users from hosting multiplayer sessions when using mobile data was fixed

An error preventing users from sending invites for multiplayer sessions when using mobile data was fixed

The wrong position of crossbows was corrected

The behavior of boats when getting in contact with cacti was fixed

Crossbows not rendering as they should when held in a hand were corrected

A problem preventing cauldrons from getting filled with rainwater properly was resolved

The issue of certain mobs not getting damaged by splash water bottles was fixed

A bug preventing mobs from spawning below level y=0 in certain situations was fixed

The way the loading screen looks was improved

A bug making certain blocks grow quicker than they should when ticked was fixed

The missing sound of mobs entering waters was reintroduced

These are the main changes and fixes, but if you want to find out more details on the present release, we invite you to watch the video trailer below this article.
If you like the changes brought by this version and would like your friends to learn about them too, don't hesitate to share this article with all of them.
Subscribe to our
website
and you will always be among the first to be informed about the
latest game versions
and about the newest and most popular
mods
,
maps
, and other surprises related to your favorite game. Have fun!
Video Trailer of Minecraft PE 1.17.0.52
We are in social networks