Minecraft PE 1.16.210.53
From the article about
Minecraft PE 1.16.100
, we know that the MCPE developers introduced two new experimental features: goats and powdered snow. They can both be enabled by turning on the Experimental Features toggle. Last week, in
Minecraft PE 1.16.210.51
, they introduced a long list of modifications affecting the goats. Today it is time to develop such a list affecting the powdered snow. All the modifications can be found in
Minecraft PE 1.16.210.53
.
Please note that this version is a beta and it will replace your existing MCPE world. This means that if you want to access your existing builds in the future, you should back them up, otherwise you will lose them. Another beta-related thing is that you cannot access Realms and non-beta players while trying it.
And now, let's see what the developers did in regards to the powder snow.
Experimental features in Minecraft Bedrock 1.16.210.53
The powder snow emits particles when an entity either lands or it or moves inside it

If a player or a mob is inside such a block, he/she/it will get a freezing effect. This effect will not be applied instantly, but gradually. If the player/mob catches fire, he/she/it will get rid of the freezing effect.

The players who play in Survival will be able to enable or disable the freezing effect

In case a mob sinks in such snow, it will not drawn but can navigate inside it

In case an entity on fire steps on the new kind of snow, its fire gets extinguished

From now on, placing torches and redstone dust on powdered snow blocks is impossible

When falling on top of such snow, gravity blocks do not break

If there is a character within a block of powdered snow, the third-person camera won't move towards its head interior

The mobs that spawn inside such blocks do not spawn underground anymore

Starting with this update, you won't find powdered snow in your Creative inventory

Powder snow is not able to stop projectiles anymore

Mobs that don't weight too much will be able to climb such snow blocks easily

Silverfish, endermites, and rabbits who used to fall through these blocks won't do it anymore

The player has the possibility to specify what blocks must be avoided now (including powder snow)

When pathing, goats prefer not to walk on such blocks

Entities walking on these blocks emit proper stepping sounds

By wearing leather boots, any entity can walk between and climb on powdered snow

When interacting with powdered snow blocks, they emit a specific sound

Fog appears around the blocks when the camera is inside them.

If you want to pick up such snow, using buckets is a solution

The texture of the new snow is different from the texture of the snow blocks we got used to

When entering these blocks, entities become slower than usual

Adjacent blocks do not look transparent if inside a powder snow block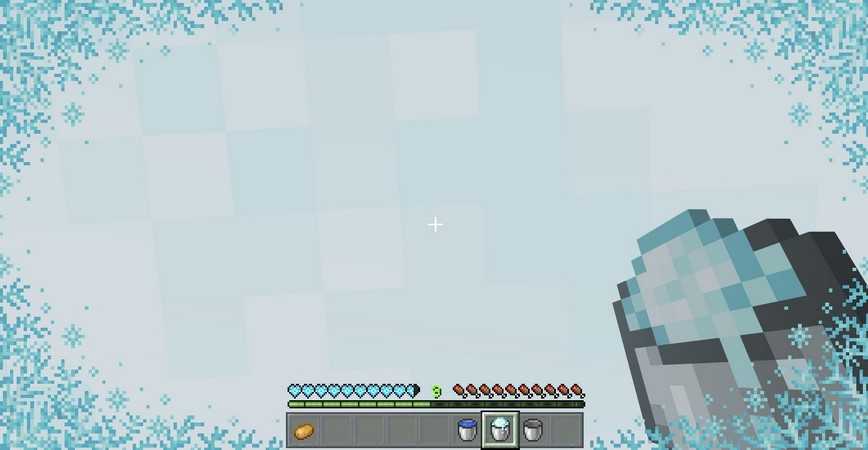 Other changes:
Besides the changes done in relation to the powder snow, the MCPE developers carried out the following operations:
Added more ambient sounds for the Nether dimension. To hear them, you should update the Minecraft Original Music Pack through the Marketplace.

Shulker boxes won't lose everything inside them if they are udyed with cauldrons

Players won't get off their boats when entering lava or water

In case there are sign up issues, the player will be notified about it more consistently

Double chests do not crash the game when opened and do not appear invisible when placed on chunk borders

A colored Hotbar text will appear when selecting Golden Apples. This is also available for Enchanted Apples.

In addition to these changes, the developers also worked on solving a few bugs affecting the graphical and technical aspects of the game.
To download this version, click on the button below the video trailer, share the article with all your bedrock buddies, and leave feedback.
Subscribe to our
website
and you will always be notified about the
latest game versions
and other news about your favorite game among the first. Have fun!
Video Trailer of Minecraft Bedrock 1.16.210.53
We are in social networks