Map Republic of Urania 1.10
The Map Republic of Urania
is an interesting city, where you'll be able to find unusual buildings, beautiful parks and lakes, giant skyscrapers and districts filled with old ramshackle houses and their poor lodgers.
Features of map Republic of Urania
The city had been built since 2014. The idea of creation appeared from the small survival village, where the author and his friends have been playing. They were really motivated so the idea of creating their own large city was liked by everyone.
Each district of this great republic has its own history and attractions. All of them differ from each other with the architecture and well-being of all the residents.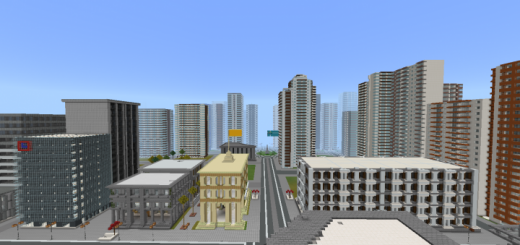 The southeast part of the city is filled with diverse squares and green parks, where you'll be able to spend some time during the hot summer days.
The northwest part is some kind of the countryside. There're not so many buildings and infrastructure, but you'll be able to relax and enjoy the life on one of the beautiful fields or valleys of this part of the republic.
The central part of the republic is a kind of a business centre, a small Wall Street of the city. Lots of business buildings, great and high skyscrapers and jewellery shops.
All you need to explore this beautiful city for yourself is to Download map Republic of Urania for Minecraft Bedrock Edition 1.10 for Android by the link below! Great emotions and bright feelings will surround you, so don't waste time. Leave feedback and check for more
Mods
,
Skins
,
Seeds
and
Texture Packs
for
Minecraft 1.10
and
Minecraft 1.11
.
We are in social networks