Addon AcidRain 1.13
Our website's subscribers already had the chance to go through a very big number of dangerous challenges, for example fighting King Ghidorah with
Addon Heisei King Ghidorah
and running away from hostile animatronics with
Addon Five Nights at Candy's Animatronics
, and now it's the time to pass another bravery test with Addon AcidRain.
How does addon AcidRain work
You probably already figured out how this addon works. When it rains in Minecraft PE, your player will have to hide as soon as possible because instead of water, there will be acid falling from the skies. Moreover, all the water in your world will turn into acid too, so it is not recommendable to have boat drives and to swim while using addon AcidRain.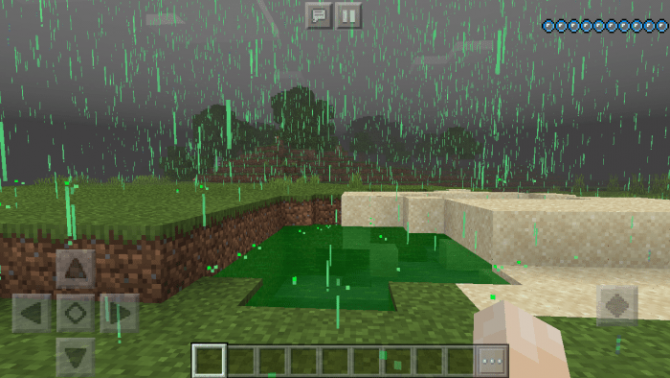 Don't think that it is only you who will have to run from the acid rain. It can also affect a lot of mobs, both peaceful and hostile.
Unfortunately, many foods are also affected by the rain, so you might get poisoned after eating them. Some of them are:
Apples

Golden Apples

Beetroots

Beetroot soup

Cookies

Melons

Potatoes and baked potatoes

Pumpkin pies

Carrots

Anyway, don't get too upset because there is a list of products that are not dangerous to your health. Your player may eat:
Cooked and raw beef

Cooked and raw chicken

Bread

Cooked mutton

Rabbit stew and cooked rabbit

If you are ready for this mystery rain, download the addon by clicking on the button below the article, show it to your friends and leave feedback.
If you want to explore other interesting
mods
, visit our
website
. Here you will also find the
latest game versions
and many other MCPE-related articles with free download buttons. Have a good time!
We are in social networks