Addon Lively Villagers 1.17
After installing
Addon Lively Villagers
we promise you won't feel any lack of communication while playing Minecraft Bedrock anymore, because these characters will become more interactive and interesting to talk and interact with.
How to use addon Lively Villagers
The first thing you should do after installing the addon is visit a village. You will discover that all the villagers living there look nothing we got used to. They will all have random hairstyles, clothes, skin colors, and even names.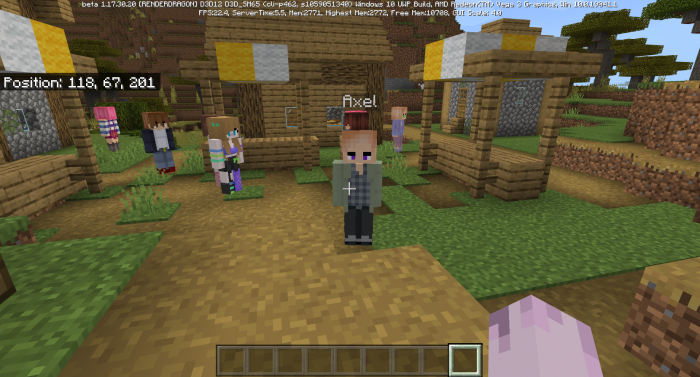 When getting near a villager, a "Talk" button will appear, and here is where the fun starts. The villager will ask you a random question, for example, "what's up?" and you will be given different answer options. The conversation with your interlocutor will develop depending on your answers. The relationship with the given villager can take different turns too because each of them has his/her own personality type and he/she may like what you are saying to him/her or not.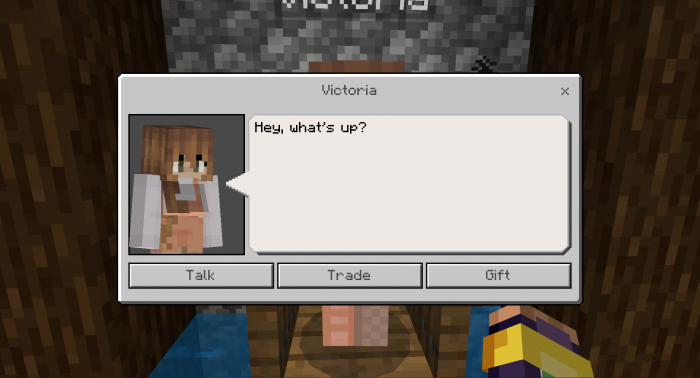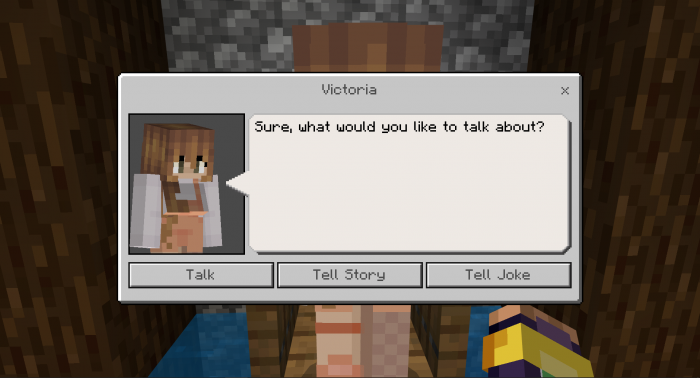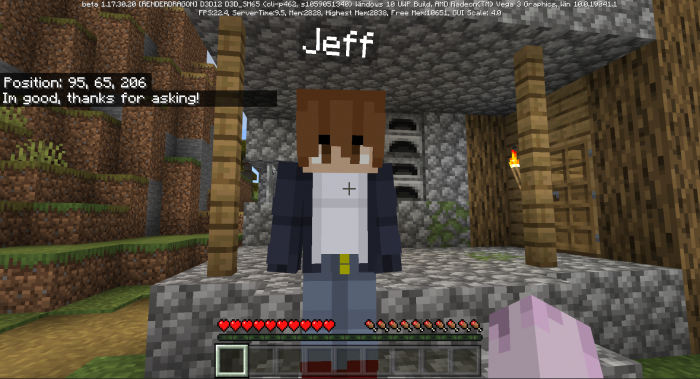 There is a relationship level bar and if your communication with the villager goes well when it reaches level fifteen, you will get the chance to use a new button called "Flirt". Further, your relationship will continue to develop depending on your actions.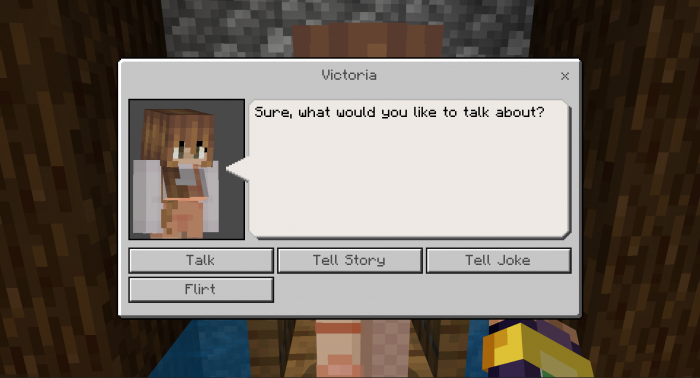 When the level goes up to thirty, another new button, that is "Follow" will appear. This means that you can make the villager follow you wherever you go. If you want to make him/her stop following you, all you have to do is click on the Follow button repeatedly. Unfortunately, this option is available only in survival for now.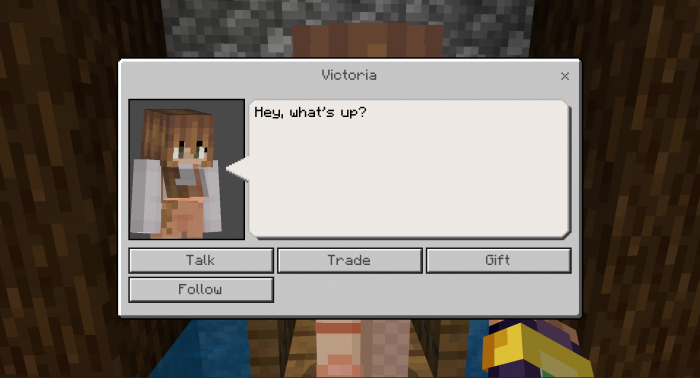 There is a basic menu you can use too, that is the "Trade" one, but it is also more interesting. You will find this option in the Main Menu. Press the button, close the GUI and you will see the "Trade" button like before. The interesting thing is that the villagers have randomized professions and you never know what specialist you will meet and what he/she will have to trade.
You can spawn such cool villagers using the spawn eggs in your player's inventory.
Another surprise offered by this addon is the wandering traders. Even if they wear their usual clothes, their faces, hairstyles, and skin colors are randomized.
If you want to try this awesome addon, click on the free download buttons below the article, share it with all your friends, and leave feedback.
The addon creator plans to develop more cool options to make the villagers and other mobs living in villages more interesting to interact with, so stay tuned.
We also recommend you try
Addon PlayerIsNotAlone
and
Addon Pig Villagers
that also make the villages more fun to visit and spend time in.
Visit our
website
for a lot of MCPE-related articles with free download buttons. Naturally, here you will also find the latest
game versions
. Have fun!
We are in social networks