Addon MobAbilities 1.13
Addon MobAbilities
is a very cool addon. It will give you possibilities as you have never tried before, that is to feel and use the powers of different mobs. Unfortunately, their weaknesses are also included, but this makes the experience even more interesting.
Features of addon MobAbilities
Thanks to this addon, you will be able to act as any of the fifty-six mobs, namely:
Husks

Simple and Aquatic Blazes

Endermen

Strays

Cats

Simple, Glow, and Nether Squids

Simple and Wither Skeletons

Phantoms

Shulkers

Drowned

Witches

Slimes

Villagers

Pillagers

Rabbits

Iron, Snow, Lava, and Stone Golems

Vindicators

Magma Cubes

Wardens

Evokers

Fish

Silverfish

Mooblooms

Wolves

TNT Yeeters

Bees

Ender Dragons

Horses

Spiders

Sheep

Yetis

Leafilyns

Blazing Infernos

Tree Guardians

Prisms

Beetlians

Igneouses

Dreams

Simple, Villager and Piglin Kings

Vampires

Time Lords

Space Children

Rubbermen

Foxes

Bomb Speeds

War Toms (a combination of Wardens and Phantoms)

Ghost Blazes (a combination of Blazes and Ghosts)

Obtaining the abilities of any of the above-listed mobs is very easy. You have to type function /give @s command_block, place the command block, set it to repeat, and type mobabilities function. Further, use command /function tag @s add (wanted mob), for example,/function tag @s add husk.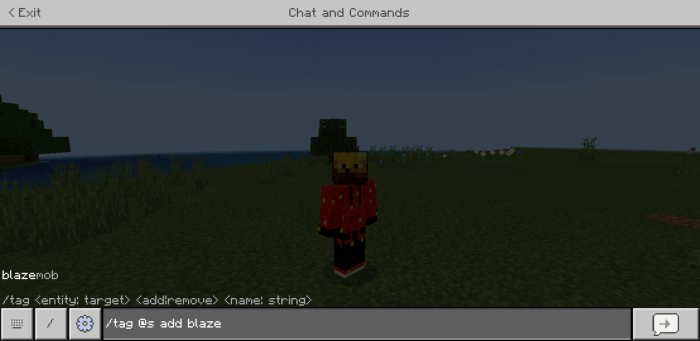 To download this fantastic addon, click on the free button below the article, share it with all your friends, and leave feedback.
If you want to try more
mods
and other interesting MCPE-related articles with free download buttons, check our
website
. Here you will also find the
latest game versions
, including
Minecraft PE 1.17.0
also known as the Caves and Cliffs Update Part One, and
Minecraft PE 1.17.10.22
which is the newest beta. Have fun!
We are in social networks