Minecraft PE 1.17.10.22
We know you are all busy enjoying the grand Caves and Cliffs update aka
Minecraft PE 1.17.0
, but since the game developers managed to release a new beta, that is
Minecraft PE 1.17.10.22
, we invite you to learn about its features too.
Bug fixes in Minecraft 1.17.10.22
In this beta version, the developers fixed a number of bugs so that we can enjoy all the new features without getting annoyed by different problems.
The issue of axolotls not being able to spawn when it's dark was fixed

The issue making Evokers aggressive when they shouldn't (that is in Peaceful game mode) was fixed

The issue making Iron Golems aggressive when they shouldn't (that is in Peaceful game mode) was fixed

The issue of glow squids not changing their color to match the surrounding environment was fixed

The issue of mobs retaliating goats when they are attacked by them was fixed

A warning showing when Guardinas appear in split-screen was removed

The problem of featured items thumbnails in the Character Creator not remaining in their respective window was fixed

An issue not letting players use the Importing New Skin option in the Character Creator properly was fixed

Another Character Creator-related issue affecting the emote animations, namely the character's head, was fixed

The issue of falling stalactites and cauldrons not dealing damage to players and mobs when landing on lava or water was fixed

A bug making players get damage from falling on blocks even if they are still suspended above them by a cobweb was fixed

The vanilla parity issue allowing players to pick up fish using empty buckets was fixed.

Besides the above-mentioned fixes that interest the MCPE players, the Mojang team made some fixes and updates in regards to the technical side of the game.
And now get ready because there is a surprise for you! The game developers decided to introduce
Candles
to the game so that the players can blow them and make wishes. Of course, you will be able to use them as you like, not only to decorate cakes. You will be able to lit four candles simultaneously by using flint and still. To craft them, you will need strings and honeycombs. Candles can even be dyed by combining them with your favorite color on the crafting table. Unfortunately, the developers warn us that the game may crash when lighting them sometimes, but we are sure that they are already working on this issue and it will be fixed very soon.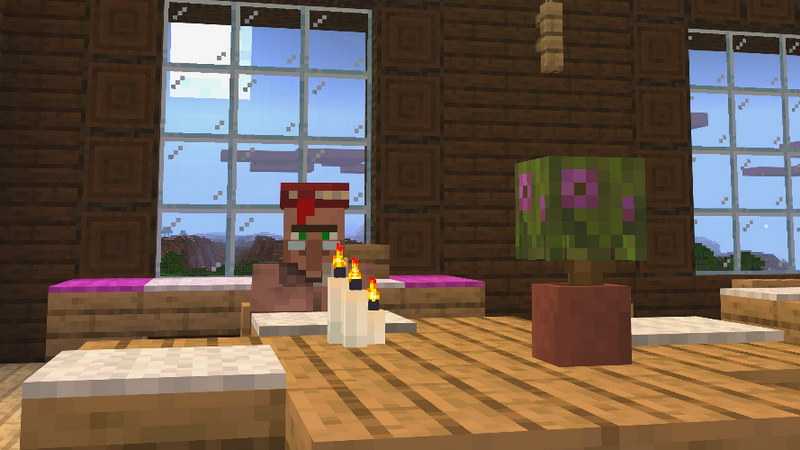 Dear friends, if you are happy about this release and if you like its features, leave feedback. Also, share the news with all your friends so that they can enjoy it too!
Subscribe to our
website
if you want to be informed about all the upcoming versions as soon as they are released. You can also explore our sections to discover many free
mods
,
maps
,
textures
, and other cool surprises. Have fun!
Video Trailer of Minecraft PE 1.17.10.22
We are in social networks