Minecraft PE 1.16.20.50
To be frank, we were a little surprised by the small list size of
Minecraft PE 1.16.0.67
and 1.16.0.68 but here we are with a great version with many useful fixes and even a very cool new Nether mob! So let's welcome the new
Minecraft PE 1.16.20.50
beta version and find out what it is about.
Features of Minecraft Bedrock 1.16.20.50
Like we already told you, there are a lot of fixes but first, we will tell you about the new mob because we are sure you are very curious. So, this is
Piglin Brute
, which is similar to the Piglins but stronger. They can be found in Bastion remnants and their target is to protect the treasures hidden there. Brute Piglins are less coward than the ordinary ones and player s won't be able to distract their attention with gold items. Regardless of the player's skin, they will attack him/her on sight with an axe. Brute Piglins do not wear armor.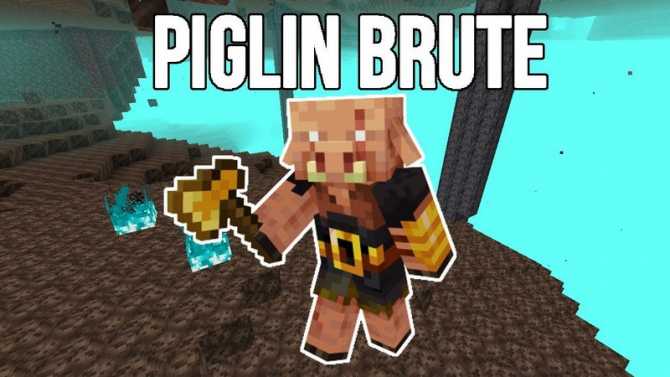 And now it is time to find out about the rest of the changes:
The maximal spawn radius of all the mobs is forty-four blocks now

Walls will now connect properly to trapdoors and glass blocks

Squids, dolphins and other aquatic creatures now spawn in bubble columns

In case you break a furnace, it will now drop the stored xp from the smelting

If the block below a stem block is destroyed, it will break too

The bonemeal won't consume in case it is used on flowers or other plants but nothing grows

After half of the entire health bar is consumed, the bar won't deplate to zero

When pushing slime blocks with pistons, they will launch the players properly now

The soul campfires will now have a proper light level

You will hear a specific sound now when climbing vines

You will hear specific sounds every time you step on crimson or warped

In peaceful game mode, hoglins won't attack players in case they are standing too close to them

The bug making wolves disappear every time they return to the overworld using a Nether portal was fixed

Items made from netherite will no longer bounce on top of the lava

You will hear a specific sound every time when you put on a netherite armor

New sounds for the Zoglins

When looking at a Piglin, you will not see the "Open" tooltip anymore

The Piglin's arms textures and behavior was modified and improved

In case a piglin admires a gold ingot and you manage to kill it while it is at this, it will drop the gold ingot

You won't be able to create quartz blocks using pillar quartz blocks and chiseled quartz blocks anymore

You won't be able to create quartz bricks from anything but quartz blocks now

Piglins won't be able to collect full gold stacks now

Each time you will return from other dimension, the boss bar will appear

Husks prefer iron armor now instead of chain armor

You won't be able to interact with Piglin babies anymore

These are the main changes you will discover by installing Minecraft Bedrock 1.16.20.50, but please do not forget that it is not a full version, thus your access to non-beta players and to Realms is still forbidden.
If you like the features brought by this update, share the news with your MCPE friends and leave feedback.
Visit our
website
and you will also discover dozens of cool
mods
,
maps
and other game-related surprises. Have a great time!
Video Trailer of Minecraft PE 1.16.20.50
We are in social networks