Minecraft PE 1.18.31
This may surprise you, but the Mojang team released another full game version shortly after the release of
Minecraft PE 1.18.30
which was a very big game update containing lots of changes, fixes, and technical updates. The new version, namely
Minecraft PE 1.18.31
, was developed because several issues have been detected since the previous one and naturally, they could not be ignored.
Fixes in Minecraft Bedrock 1.18.31.04
If you installed the previous version, you have probably noticed one or more bugs while using it. Well, other players did too and the most active ones have informed the game developers about them. As they always do, the developers reacted promptly and:
Fixed the furnace that used to give incorrect amounts of XP

Fixed the entities that used to vanish when moving them to chunks that were not fully loaded

Fixed a bug making the player's screen turn black when using RTX on repeatedly loaded maps

Corrected the textures of blocks seen from big distances

Corrected the textures of flowing liquids, for example, lava

Stopped mobs from spawning on top of buttons

Worked on several situations when loading chunks could cause lags and other performance issues

Worked on the situations when certain maps failed to open after the player installed the previous full version

Made achievement "Sound of Music" available again

Made Marketplace accessible on all devices

Fixed a bug making the loading screen unresponsive when buying something from the Marketplace

As you can see from the list above, the MCPE developers had to deal with really serious problems, but happily, they succeeded and we can enjoy an even better gameplay now.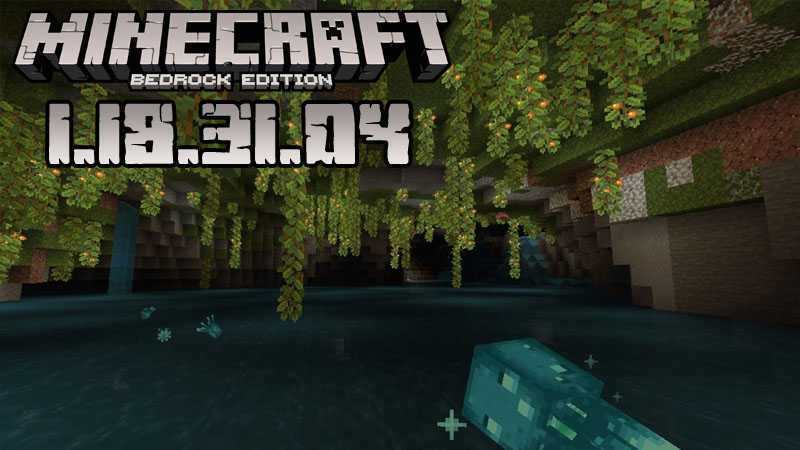 We are sure that new
game versions
are already under development, so follow our
website
if you want to find out about their release sooner than other users. You are also welcome to check our collections of popular
maps
,
textures
, and other Bedrock-related surprises and you can even share your favorite ones with your friends. Have fun!
Video trailer of Minecraft PE 1.18.31
We are in social networks