Minecraft PE 1.16.230.52
With the realease of
Minecraft PE 1.16.200.52
, the Mojang team is gradually introducing new Experimental Features including awesome new blocks, plants, and most importantly, new mobs for us to enjoy and interact with. Today, in
Minecraft PE 1.16.230.52
, there is another new mob for us to meet, but this is not the only surprise!
New mob in Minecraft 1.16.230.52
If you are our subscriber and you are regularily trying the free mods and other MCPE downloads we are proposing to you, perhaps you are already familiar with the cutie that the MCPE developers introduced this time, because we already published an article about it, that is
Addon Axolotls Replica Concept
. Well, now this new character is living in our worlds officially.
Oxolotls
may spawn either underground or in waters. There are different colors of oxolotls, but the rarest ones are the blue ones which do not spawn in a natural way but are the result of breeding to other oxlotls. Anyway, the chance to obtain a blue one is rather low. The oxlotls are aggressive, but not towards players. They prefer hunting fish and other underwater- leaving creatures. Oxolotls cannot live on the ground. When on land, they dry out very quickly, this process taking up to a few minutes, but if you are fast enough, you may save it by rehydrating it again. If you want to pick them up, you will need a bucket, because this can be done like in the process of catching fish. Their most distinctive feature is that they can fake their death. They usually do this when they take damage. While faking, their health regenerates and they cannot be spotted by other kinds of mobs. Players can tempt oxolotls with tropical fish buckets and bred with the same thing. Unfortunately, these creatures cannot be tamed, but we hope the developers will do something about this in the near future.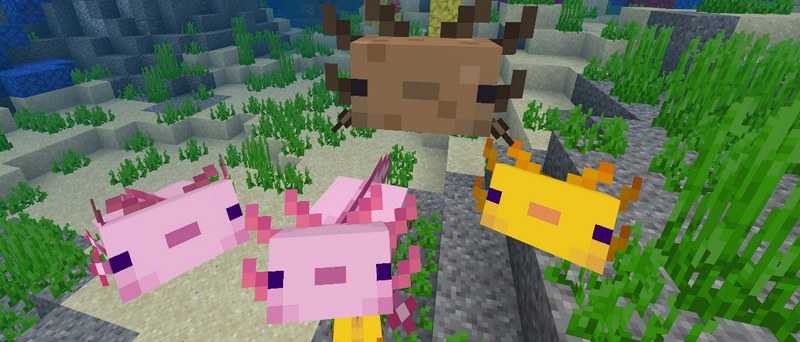 This is all we had to tell you about the newly-born mob, but as we already mentioned, there are more surprises for you to explore! A lot of new blocks have been introduced in our Bedrock worlds. These are:
Deepslate blocks

Cobbled deepslate blocks, walls, stairs, and of course, slabs

Polished deepslate blocks, and the above-mentioned variants

Deepslate tiles and the above-mentioned variants

Deepslate bricks, and the above-mentioned variants

Deepslate iron, coal, redstone, lapis, gold, diamond, copper, and emerald ores

Cracked deepslate bricks and tiles

Chiseled deepslate blocks

To find deepslate, you will have to look for it below the y=16 layer.
Besides the development of all these new features, there are also the traditional bugfixes and tweaks:
From now on, players won't be able to feed farm animals continuously

From now on, rabbits will eat carrots again, their behavior being fixed

The visibility of the underwater, regardless of their origins, was improved

Players can now wax already oxidized copper blocks and all their variants

Pointed dripstones that previously used to break incorrectly when pushed by a piston, were fixed

The sounds played when someone walks on dripstones were fixed

From now on, you can look for glowing lichen in your nature section in Creative

The bug preventing the lightning rod from activating observers normally when they should was fixed

Big dripleafs are waterloggable now and they will unlit as they should if hit with projectiles

Small dripleafs can be placed in many places now, but there is one condition: their stems should be underwater

From now on, you will have the possibility to block water using moss blocks

The bug preventing players from placing certain blocks (for example fire, vines, and signs) on moss was fixed

The issue preventing spore blossoms from dropping as they should when sheared was resolved

The issue preventing mobs from pathfinding across moss was resolved

The lush caves are even richer now because the MCPE developers added jungle vines there

Several minor bugs affecting the screen reader were fixed

The position of the trident when held either by players or by mobs was corrected

Catching fish using a bucket is possible again

Dear friends, if you are interested in the technical part of Minecraft Bedrock, you will find several bugfixes carried out in that direction too, but for more information, we suggest you watch the video trailer.
Subscribe to our
website
if you didn't manage to do his yet and this way you will always be the first to learn about the
latest game versions
and about the most popular MCPE-related downloads. Have fun!
Video Trailer of Minecraft PE 1.16.230.52
We are in social networks