Minecraft PE 1.16.230.50
Last week we had the chance to find out about a lot of new surprises introduced as experimental fixes with
Minecraft PE 1.16.220.52
. In just one week since its release, the most attentive players succeeded to detect several issues affecting some of these features. Happily, the MCPE developers could fix them and other issues preventing players from having a nice and smooth MCPE experience. Moreover, they also managed to develop a new light source generating in caves. You will learn about all these things by reading this article on
Minecraft PE 1.16.230.50
.
New features in Minecraft 1.16.230.50
We are sure you want to find out about all the bugfixes carried out by the hard-working MCPE developers, but we bet you prefer to learn about the new features first, so we will satisfy your curiosity.
This week we have just one new Experimental Feature, but believe us, it is something spectacular. This is a kind of lichen working as a source of light and being very useful in caves. This lichen was named the
Glow Lichen
. The players will be able to spread it on numerous blocks by bonemealing it and will be able to pick it up using shears. Besides this, the new lichen can be waterlogged and composted.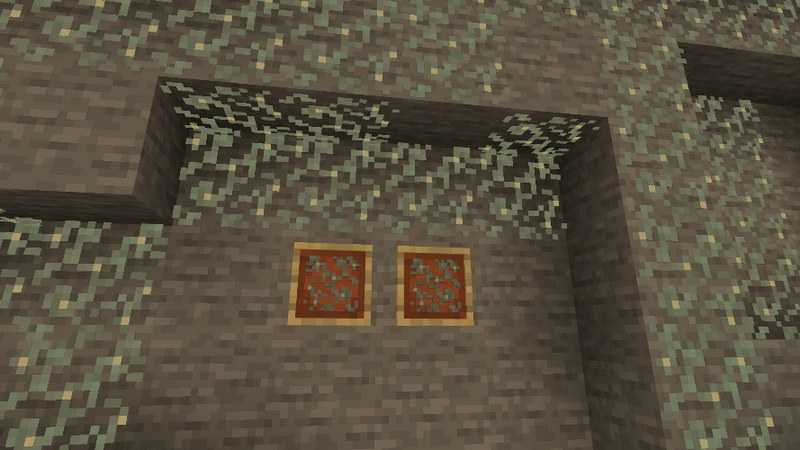 And now, let's study the fixes, and we will start with those affecting the features introduced in the previous beta.
The bug making azalea leaves drop incorrectly was fixed

The bug making flowering azalea leaves drop incorrectly was fixed

The bug preventing players from composting hanging roots was fixed

The issue of bees refusing to comprehend flowering azalea as normal flowers was fixed. This is available for the flowering azalea leaves too.

An issue of the block height not getting modified when putting big dripleafes on top of each other was fixed

Another issue of small dripleafes not dropping when the player uses shears on them was fixed

You will also notice that you can make grass path blocks by using shovels on rooted dirt blocks and that you can produce glow berries by breaking cave vines with Silk Touch and by using function pick block on them.
Other bugfixes:
Resolved an issue of players getting blocked in the progress screen stage in case they cancel the world-joining progress while the world generates

Resolved an issue of some Android devices not performing certain language inputs

Resolved the issue of the wrong crosshair placement on certain devices

The bug preventing players from exiting their games properly on certain devices was fixed

A bug making the screen black when the player goes underwater was fixed

Numerous resolution and network problems affecting certain Android devices were fixed

Resolved the problem of powdered snow dropping when being destroyed by tnt or other explosions

Several texture-related issues affecting the player when playing in first person

Resolved the issue of the stonecutter giving one slab, not two as required when crafting waxed cut copper slabs

The developers also carried out many technical changes. The most important ones are:
New World.getDimension and Dimension class

Improved interface of the GameTestFramework

The bug making Catmull-Rom animations glitch in certain situations was fixed

Modified the name of the /whitelist command to command /allowlist

Some enums that have been previously introduced accidentally in the ActorDataID have been deleted

If you want to find out more details about this beta version, you can watch the video trailer below the article.
Before installing it, do not forget to make copies of your existing MCPE worlds if you are planning to access them in the future and warn your friends who use full versions and who are playing in Realms that you are going to miss them while trying the beta.
Follow our
website
and you will always be the first (or at least among the first) to learn about the
newest game versions
. You can also check our sections for the best free
maps
,
mods
, and other game-related surprises. Have fun!
Video Trailer of MCPE 1.16.230.50
We are in social networks