Minecraft PE 1.16.220.52
Last week we finally had the chance to try a new full game version which was
Minecraft PE 1.16.210
. That update comprised all the changes and fixes from the previously released betas. Today we will take a step forward because the Mojang team has many surprises ready for us. Get ready to discover several new features and other cool changes brought by
Minecraft PE 1.16.220.52
!
Please note that you won't be able to play with non-beta players and in Realms, while trying this version, like you could using the previous one because betas do not allow this. We also recommend you back up your existing game worlds because otherwise, you risk losing them.
New blocks in Minecraft 1.16.220.52
We will start with the greatest news and this time this is the introduction of a lot of interesting new blocks. They are meant to be present in Lush caves but unfortunately, these caves are not yet present the game. The blocks are as follows:
Spore blossom blocks

Moss blocks. Fertilize them and you will see that different plants grow on them. Can be dug using hoes.

Moss carpet is a new kind of vegetation and can also be dug in the same ways as the previously-mentioned blocks

Azalea blocks. They can serve as fuel

Azalea leaves

Flowering Azalea blocks and leaves

Cave vines that can sometimes have glow berries. These berries can be used to place these vines underneath other different blocks. When someone interacts with these berries, they usually pop. Sometimes these vines do not have berries, but you can solve this by fertilizing them. You will also discover that they emit light, but only those that have berries. Just like the rest of the existing vines, the new ones are climbable. The berries that grow on them can be used to satisfy your player's hunger. They are also suitable for breeding foxes.

Moss

Rooted dirt

Hanging roots

Small dripleaf blocks that can turn into big ones when bone mealed

Spore blossoms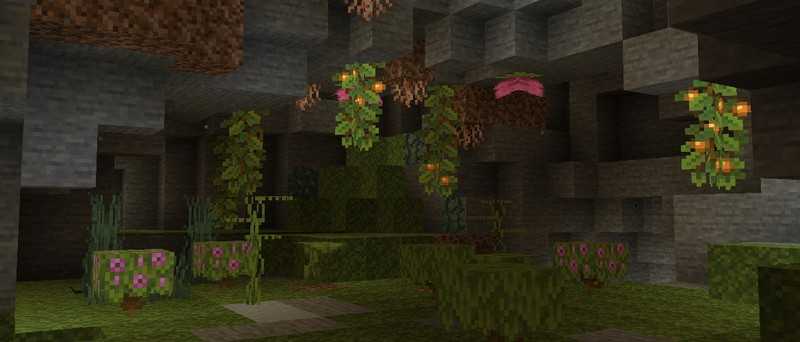 Besides the development of all these amazing blocks, the developers improved the world generation. You will see noticeable changes when installing this update.
Bugfixes
Traditionally, the MCPE developers could not ignore the issues and performed a number of important fixes. These are:
Corrected textures of copper ores

Made the copper ingots craftable only with copper blocks that are not oxidized

Made waxed copper cuttable in the stonecutter and made them give two slabs

Corrected the copper colors on maps

Introduced the possibility to undo the waxed state of copper. This can be done using the furnace

Introduced the possibility to obtain copper block slabs and stairs with the stonecutter. This possibility is also available for cut copper

Introduced the possibility to gradually cancel the waxed state of copper. This should be done by clicking on it with an axe

Developed particles emitting from copper when it gets waxed or de-waxed. You will also notice such particles when these blocks get hit by lightning

Reduced the oxidation period of copper if a lightning rod gets hit nearby

Removed the bug turning leaves opaque each time someone puts a lightning rod on top of them

Removed the bug allowing such rods to get connected to walls

Made it possible to waterlog these new rods

Made lightning rods emit special particles each time there is a thunderstorm

Starting with this beta, you can interact with any block in case you have a lightning rod in your hand

Resolved an issue making texts in earlier worlds invisible

Introduced new sounds playing when dyes are used to color signs

Introduced new sounds playing when ink sacs are used to color signs

Resolved a problem with users playing in split screen lose their data in certain situations (affecting only the Xbox users)

Improved the colors of the Storage menu texts

Improved the colors of the Settings screen texts

Resolved a problem making the firstly seen profile override the rest of them when switching between profiles

Resolved a few problems preventing command /clear from working properly

Resolved a problem preventing the bobbing setting from being disabled

Resolved a problem preventing HudCursor from rendering colors that are inverted

Resolved a problem affecting the pistons in case the user disables the Outline Selection option

Resolved a problem preventing Nether fog from rendering properly in some cases

Removed the glitches affecting texts on signs

Corrected the drowneds' behavior when they throw tridents

Removed a crash occurring when the MCPE player using a nether portal under certain circumstances

Fixed several bugs affecting Alex's shirt, Steve's pants in the Character Creator

Dear subscribers and guests, these are the main fixes brought by the new version, but if you want to find out more information about it, watch the video trailer before installing it.
If you want your friends to know about this release and all its new features, share this article with them. We would also appreciate it if you could leave feedback because your opinion is important to us.
Subscribe to our
website
(in case you didn't manage to do this yet) and you will always be up to date not only with the
latest game versions
, but also with the newest
textures
,
maps
, and more. Have fun!
Video of Minecraft Bedrock 1.16.220.52
We are in social networks