Minecraft PE 1.16.210.57
Starting with the last week when we revealed the features of
Minecraft PE 1.16.210.56
, the MCPE developers started introducing interesting new features that can be enabled via the "Experimental Features". Hopefully, all these features will be present in the upcoming Caves and Cliffs update, because they really make our MCPE worlds more fun to play in and more beautiful. Today, in
Minecraft PE 1.16.210.57
, you will discover two more features and we will tell you everything about them in this article.
New experimental features in Minecraft 1.16.210.57
Copper
. These new ores will appear in the world generation as soon as you install this version. Smelt them in the furnace and you will obtain copper ingots that can be further transformed into copper blocks. You will hear specific sounds when interacting with them. Copper blocks can be transformed into cut copper. Copper and cut copper, plus cut copper slabs and stairs can be accessed through the player's inventory. Unfortunately, copper including the slabs and stairs can oxidize, but if the oxidation process is not fully complete, you can save them by waxing them with a honeycomb in the crafting grid or by placing them in a dispenser full of honeycombs. Starting with this update, drowned will drop copper ingots.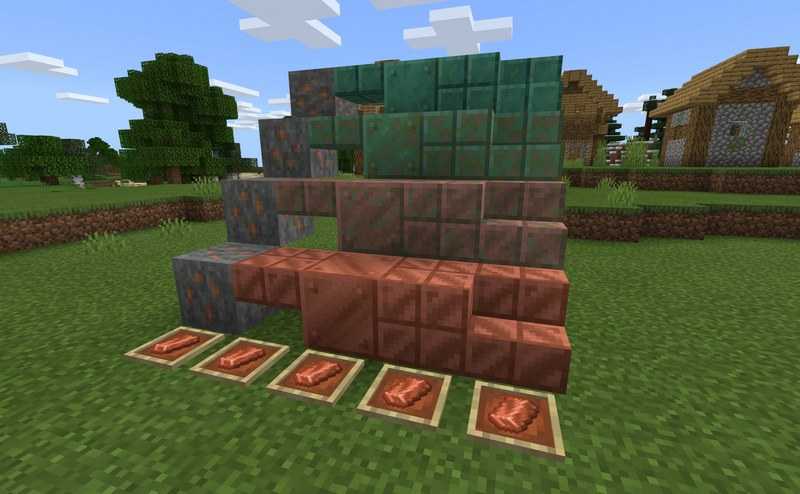 Lightning Rod
. To obtain it, place crafting ingots in the crafting grid as shown in the picture below. This rod interacts in a very interesting way with the lightning strikes. For example, if a strike happens in a radius of sixty-four blocks from this rod, it will immediately strike it. If the player decides to throw a channeling trident at such a rod when there is a thunderstorm, a lightning strike will be spawned in it. When a lightning rod is stroke, it plays a redstone signal.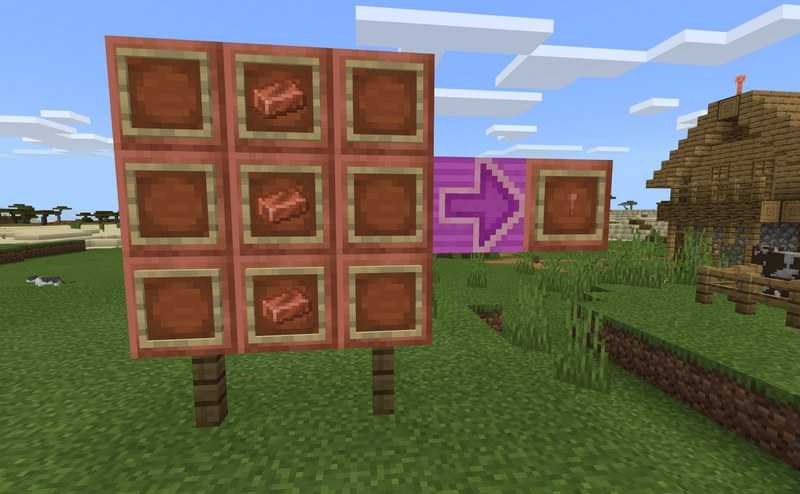 If you want to see these new features in your MCPE world, install this beta and enable the Experimental Features toggle but don't hurry, because there is also a list of fixes and changes you should know about.
Fixes and changes:
Starting with this update:
You will be able to adjust the slider settings in case your cursor is not within the UI frame using keyboard inputs

The Screen Reader will let you know when your "chat menu" settings are opened and will also read the announcement and whisper messages

The UI Screen Reader will read the permission toggles titles properly

The performance of the actors who use TemptGoal was improved

The UI transition animations are smoother

An issue happening after the player uses command /clone on a double chest was fixed

A bug preventing the same command from cloning blocks of the same type was fixed

A bug causing fall damage in case the player opens a shulker box was fixed

You will obtain XP after smelting nether bricks

Mobs using melee attacks have the possibility to hit their targets below and above, but these targets must be in the attack's range

When you select tool and item recipes in the recipe list, they will show the selected item's background

The sound sliders will be highlighted when hovered over with the mouse

When holding an item with low durability in a window, its durability bar will be displayed

There are more Video Settings messages for ray tracing now

The behavior of the structure blocks was improved and the player will have more possibilities regarding them

When trying to move a locked item from a container, you will get a warning message.

Dear friends, if you want to find out more details about the present beta, watch the video trailer below.
Please remember that this is not a full version, thus the builds created in it might not be as stable as you expect them to be and that you won't be able to play in Realms and with non-beta players while trying it. Also, make sure to make copies of your existing worlds before installing it, otherwise, you risk losing them.
Be a good friend and share the news about this release with other players and leave feedback.
Follow our
website
and you will always be up to date with the
latest game versions
and with the most popular
mods
,
textures
, and other MCPE-related novelties. Have fun!
Video Trailer of Minecraft PE 1.16.210.57
We are in social networks