Addon GolemsPLUS 1.13
Addon GolemsPLUS
adds a lot of new, strong golems, including a three-headed Boss Golem whom you will have to fight with, to your Minecraft PE worlds.
Features of addon GolemsPLUS
Each of the below-listed golems have their own, individual features and abilities. Let's see what kind of golems you will get by installing the present addon:
The Wood Golem which is being transformed into a Charred Wood Golem in case it is struck by lightning




The Rusty Golem is the result of an Iron Golem struck by lightning

The Lapis Golem

The Gold Golem

The Emerald Golem

The Slime Golem comes in three different sizes in case the player uses a spawn egg. It jumps around, just like the Slime does.

The Wither Golem is the boss golem we mentioned in the beginning. It has the same features as the Wither Boss. It also summons skeletons and wither golem heads, which, in their turn can give the player a wither effect.




The Frozen Golem gives the player a slowness effect

The Mushroom Golem gives the player a regen effect

The Sandy Golem gives the player a blindness effect

The Nether Golem summons fire

The Ender Golem is able to teleport in no time in any location, so take care, it can be rather unpredictable.

The Obsidian Golem

Some of the above-mentioned golems you will need some upgrades. They can be crafted as shown in the pictures below.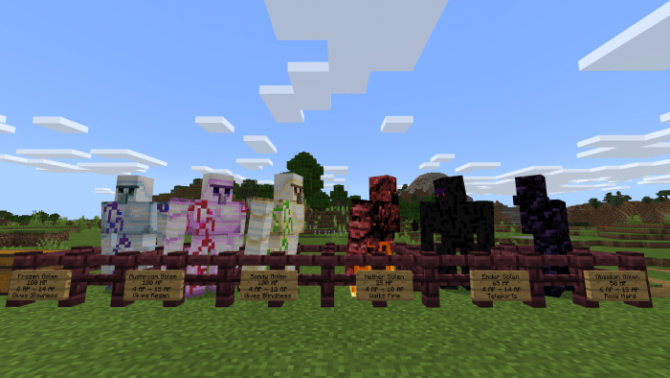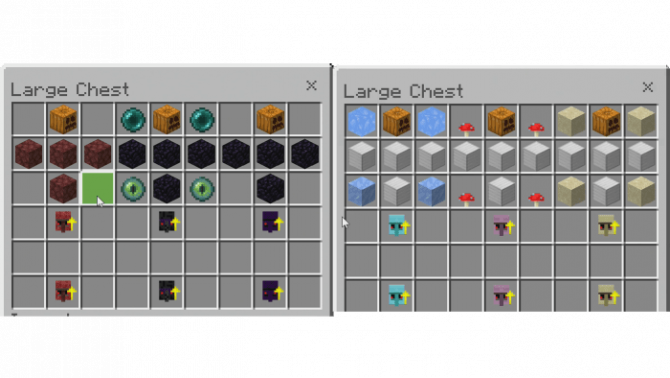 The creator of this addon also introduced a custom Iron Golem, but it does not spawn like usual. It has to be created using the crafting table.
Before hitting the download button, we recommend you to watch the video trailer below, in order to learn how to craft these golems and to find out more details about them.
Please use this addon with Experimental Gameplay enabled, otherwise it just won't work.
If you liked Addon GolemsPLUS, share this article with your MCPE friends and leave feedback.
Visit our
website
to discover other interesting
mods
. Here you will also be able to download the
latest game versions
, as well as many other interesting MCPE-related stuff, for example, cool
skins
, fascinating
maps
, and stunning
texture packs
. Have a good time!
Video Trailer of Addon GolemsPLUS
We are in social networks