Addon BlockBerry Studios – Function Pack 1.10
BlockBerry Studios in front with DeniTax developed a truly impressive function pack and they called it
Addon BlockBerry Studios – Function Pack
. Now let's see what it has to offer to the Minecraft PE players:
Features of addon BlockBerry Studios – Function Pack
Below you can see the list of available commands you can use with this addon and their description. We are sure you will have a lot of fun applying them to your Minecraft world.
/function kill: This command is going to kill any entity around the player within its render distance

/function vanish: Command to make the player invisible.

/function kit: offers a special kit that spawns near the player right after this command is typed.

/function credits: allows you to find out who worked on the development of the present addon.

/function speed: causes a speed effect for everybody.

/function up: makes all characters except the player float high in the air and then fall down and die.

/function trap: traps everybody except the player inside of obsidian.

/function house: builds a pretty little house.

/function farm: builds a village farm with crops.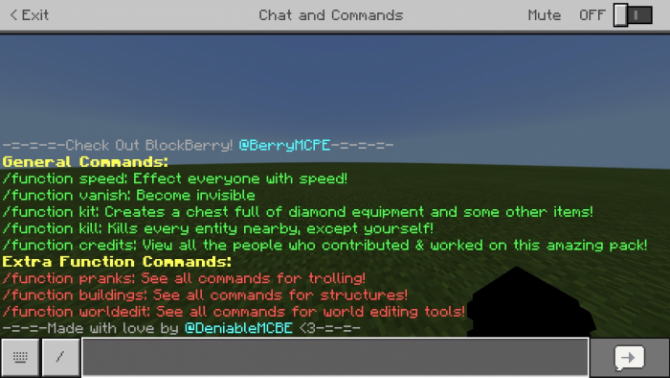 The creators promise to enlarge the presented list in the near future by adding a number of world editing commands. We are looking forward to it, but meanwhile, let us enjoy this fun and useful function pack. Download it by clicking on the button below, tell your friends and leave feedback.
For other new
mods
, as well as
maps
,
textures
, and
seeds
, visit our
website
. Here you will also find information and downloads for the
latest MCPE versions
.
We are in social networks