Addon Curse of Fun 1.10
We are all used to the fact that mobs are hostile and attack. With
Addon Curse of Fun
, the mood of the mobs is quite different.
How does addon Curse of Fun work
First, we will talk about how these creatures appear. They can be spawned using eggs or they can be summoned by using the /summon curse_of_fun: command. If you choose this option, after typing the already mentioned command, you will see the list of available mobs on which this addon works. Here is the list of mobs that you can summon this way:
Chicken
Cow
Creeper
Enderman
Horse
Villager
Steve
Alex
All these mobs look exactly as usual, but they are peaceful and all they do is just walk around. If killed, they drop the same items that the custom ones do.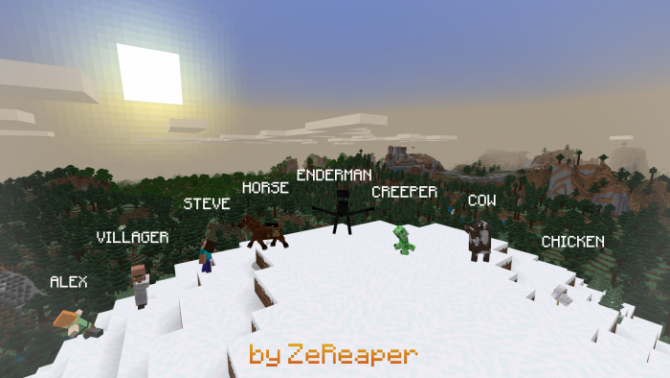 Note:
Because the presented mobs spawn everywhere, the possibility of custom mobs to spawn decreases considerably. If you want to check for yourself what these mobs are like, download the free Behavior and Resource packs by clicking the buttons below. Do not forget to share with friends and why not? Use your fantasy to manage these nice mobs. We would appreciate your feedback. For other fun and interesting
mods
, as well as
maps
,
texture packs
, and
skins
visit our
website
. Here you will also find the
latest MCPE versions
.
We are in social networks