Addon Kill/Death Counter 1.9
Kill/Death Counter
is small but really comfortable detail for your favourite Minecraft Pocket Edition. It'll add an extra counter on the screen, so you'll be able to monitor all your kills and deaths. It's really comfortable for different PvP minigames, so you have to try it in any way! Call friends and test the Kill/Death Counter together!
Features of addon Kill/Death Counter
To activate Kill or Death counter you should type these 2 commands into the chat:
'/scoreboard objectives setdisplay sidebar DeathCount'
'/scoreboard objectives setdisplay sidebar KillCount'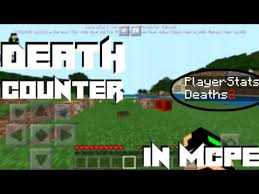 Both these counters work really simple. After your death, the number under the DeathCount will rise by 1. The same thing will happen to the KillCount, but it doesn't count distance kills, so only your melee attacks will be counted.
It's really useful if you want to play some kind of minigame which needs the exact number of kills and deaths.
Download addon Kill/Death Counter for Minecraft Bedrock Edition 1.9 for Android and look for diverse
Mods
,
Skins
,
Seeds
and
Texture Packs
for
Minecraft 1.9+
by these links and share all the materials with friends. Leave feedback and enjoy playing!
We are in social networks