Addon Demogorgon 1.8
Addon Demogorgon
will allow you to meet this dangerous, flesh-eating monster in the world of Minecraft Pocket Edition!
Features of addon Demogorgon
What is Demogorgon? This is faceless, creepy and dangerous monster from the other world, which will try to make everything to get and kill you. Where did its name had come from? Officially, this creature had no name, but by the plot of the series, main characters called it Demogorgon, after one of the monsters in famous table game Dungeons&Dragons.
The Demogorgon has an ability to create its own dimension, called The Burrow, you have to be careful, 'cause no one, who was dragged into the Burrow didn't get back. That's just a legend, took from the plot of series, but, in the future, it's possible that the Burrow dimension will appear in this addon.
This monster has flower-like head with hundreds sharp tooth, so don't come too close! The skin of Demogorgon is really solid and durable, so it won't be so easy to kill it. The Demogorgon has 80 Health points and will hit you with 10 points of damage.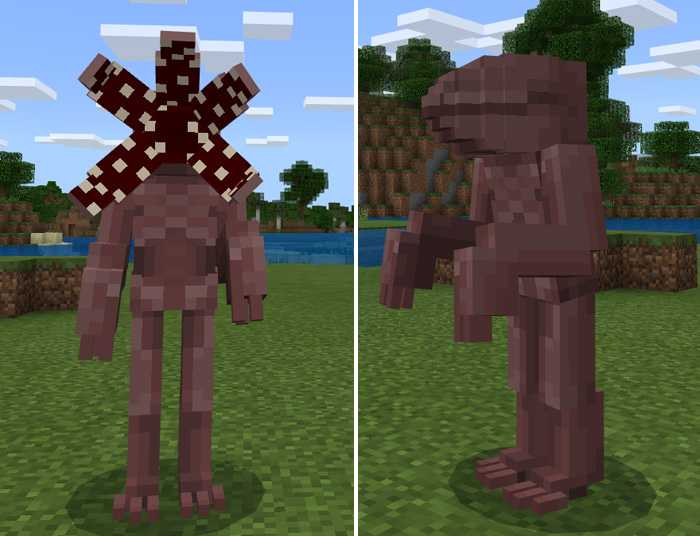 Download addon Demogorgon for Minecraft Bedrock Edition 1.8 for Android by the link and try to defeat this dangerous and creepy monster with yourself! Call friends for help and leave feedback. There're lots of new
Maps
,
Skins
and
Texture Packs
for
MCPE
in the other tabs, don't forget to check.

We are in social networks