Addon Elephants & Mammoths 1.8
Addon Elephants & Mammoths
will make it possible to meet these giant and magnificent animals in the world of Minecraft Pocket Edition!
Features of addon Elephants & Mammoths
As you could understand, there're 2 animals, you can meet, playing
Minecraft
with this addon. Elephants, which can also be divided into two species and Mammoths themselves.
Mammoths can be found in winter biomes with snow and ice, because their long hair doesn't allow them to live in warm and hot biomes with comfort. You'll need to spend some time, because Mammoths are really rare and won't let you find them easily.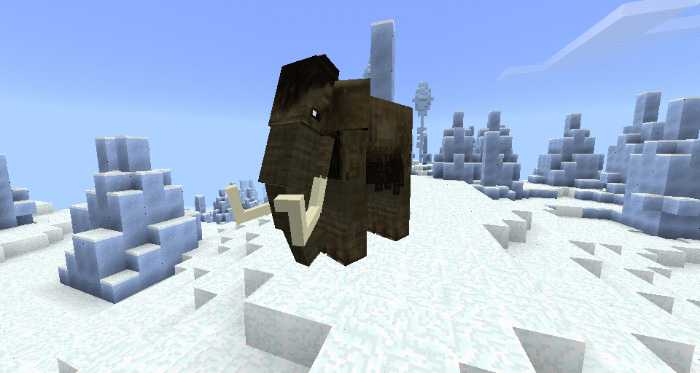 Both species of Elephants can be met in Jungle, Forest, Plain and Savannah Biomes. These creatures aren't so rare and will likely live in large groups of 4-8 individuals. They are much smaller than their prehistoric relatives, so don't be surprised if baby Mammoth will have the same size as adult Elephant!
Mammoths and Elephants can be tamed using sugar and apples, so it won't be the problem. Tamed animals have higher HP level and stronger attack. Player can also ride tamed Elephant and Mammoth. Domestic animal will definitely protect you from hostiles.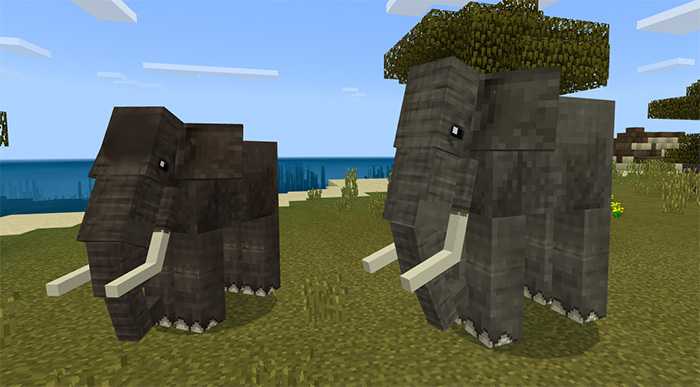 Download addon Elephants & Mammoths for Minecraft Bedrock Edition 1.8 for Android and share it with friends. Leave feedback and check the other sections for more
Seeds
,
Texture Packs
and
Maps
!
We are in social networks