Minecraft PE 1.5.0
Minecraft PE 1.5.0
it`s a new, saturated and even more interesting version of Minecraft Bedrock Edition. A huge number of changes and additions palpably improved the game.
Changes in Minecraft PE 1.5.0
The surface of the blue ice became more slippery.

Updated coral textures.

The management of the boat became more convenient.

New background of the main menu.

Skeletons and some other hostile mobs can now move along the bottom.

Skeleton horses can also move along the bottom.

Structure Blocks are full functional.

Many updates of tridents.

Сhanged textures of some food.

Changed of inhabitants of the ocean (in particular, dolphins, if you will feed the dolphins, they will lead you to the treasures).
And other less significant changes in game.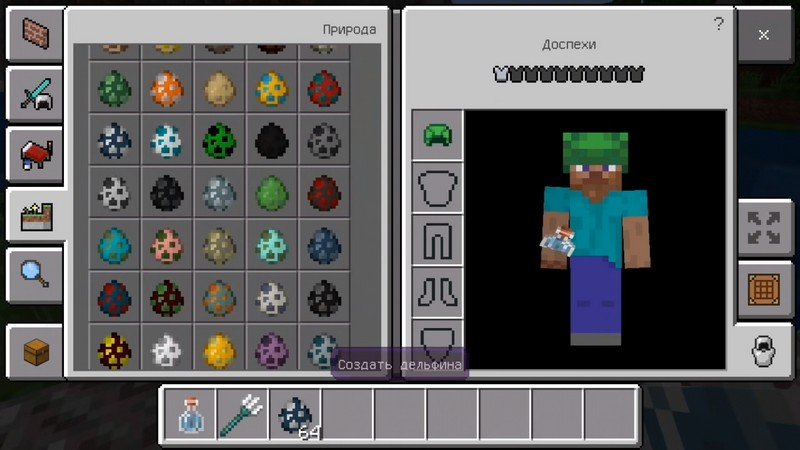 Additions in MCPE 1.5.0.14
Added turtle.

Added turtle shells.

Added several achievements
(Feed the dolphin - "Echolocation".
Set in one block four sea cucumbers - "One Pickle".
Use the new magic "Tyagun" - "Do a Barrel Roll!".
Energize the oceanic conductor - "Moskstraumen".)
New potion - "Potion of Turtle Power";

Drowned go ashore only at night

Minecraft Bedrock Edition is one of the best survive simulator game. Many gamers enjoy that game and eagerly waiting for a new version,
skins
,
maps
,
mods
,
seeds
,
texture packs
and updates. Present version of Minecraft Pocket Edition is already installed on devices of many players. Join and you also! Download Minecraft 1.5.0.14 for Android – Update Aquatic and
other versions of Minecraft for Android
.
Download and play!
We are in social networks