Minecraft PE 1.1
Minecraft PE 1.1
was the great update for whole Minecraft Bedrock Edition. Lots of features and items are still popular and being used everywhere. Few of them are colorful clay and burnt colorful clay, diverse beds and so on. Don't miss the chance to check these features with yourself and see the appearance of older Minecraft Pocket Edition versions.
Features in Minecraft PE 1.1.0
Firstly, this version contained huge number of blocks, entities, creatures and structures, which were removed in further versions, so we can't find few of them in modern Minecraft PE.
One of new features is huge mansion, which spawned in Dark Forest Biome. This building rarely appeared, so it was the real luck to find it. Player could come inside and explore this giant building. Large mansion had few big halls, bedrooms, libraries and other rooms, where chests with useful items spawned.
The next thing, you could find in Minecraft 1.1 was mob, aka vex. This ghost-like flying mob appeared everywhere around the world, scaring player from time to time. It was really new for Minecraft 1.1 player, because it could fly and follow you for really long time. In some time after spawn, vex could divide into 2 new vexes, which had all the abilities of the first one. Vexes became really dangerous enemies, because of huge quantity of these guys and strong damage.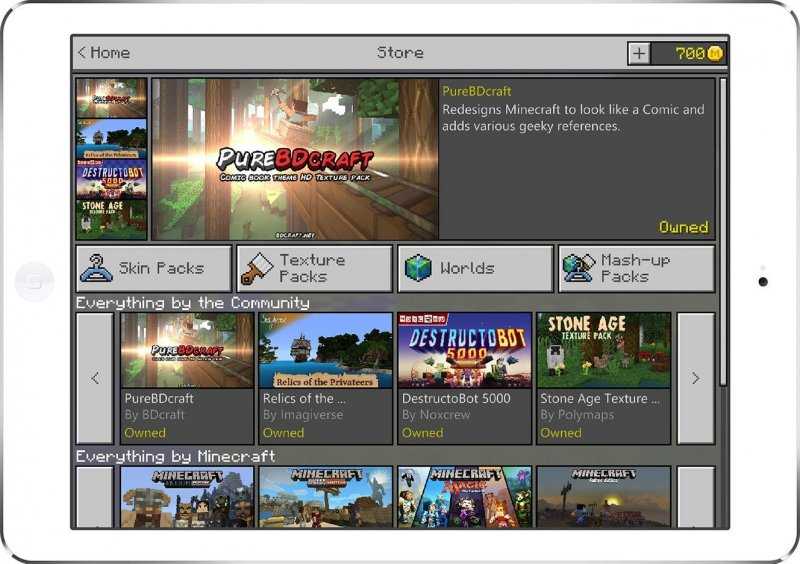 One more interesting detail of the 1.1 update were llamas, which we can meet in the world of Minecraft even now. Diversity of llama colors can satisfy any player's wishes.
Two more hostiles were added in Minecraft 1.1. They're Vindicator and the Summoner. Both these mobs spawned in the forest mansion and were really dangerous enemies because of high damage and diverse ways to attack.
The new Adventure mod was added! From that time, map makers received an ability to prevent breaking their maps and using external items. Iron and Gold items were also added, so players could finally mine different ores.
If you want to try this version with yourself - Download Minecraft Pocket Edition 1.1.0 apk for Android by the link below and enjoy! Look for more
Mods
,
Skins
,
Seeds
and
Maps
for new
Minecraft Beta 1.9
in the other sections and leave feedback.
We are in social networks