Map Five Nights at Freddy's 1.7
Map Five Nights at Freddy's
is well-made Minecraft version of full version game. You also have to spend 5 nights, sitting in your security room and keeping hostile animatronics away from doors.
Features of map Five Nights at Freddy's
Firstly, well-done animations and artificial intelligence. These guys will make everything possible to get and eat you. Freddie, Bonnie, Chica and Foxy will try to kill you in any way, so you have to close the doors and turn on the light in time to make them get away from your room.
Secondly, great way to copy Cameras from the original game. Use your hotbar to switch cameras and check the location of all the enemy robots. Using cameras, you can also look at great build interior of Freddy's Pizzeria. Decorations are really thought, so try to make it at least 1 time!
Don't forget that your battery isn't infinite, so when its charge will get down to 0% - you won't be able to turn on the light, shut the doors or check the cameras. Without these abilities aminatronics will find and kill you quickly.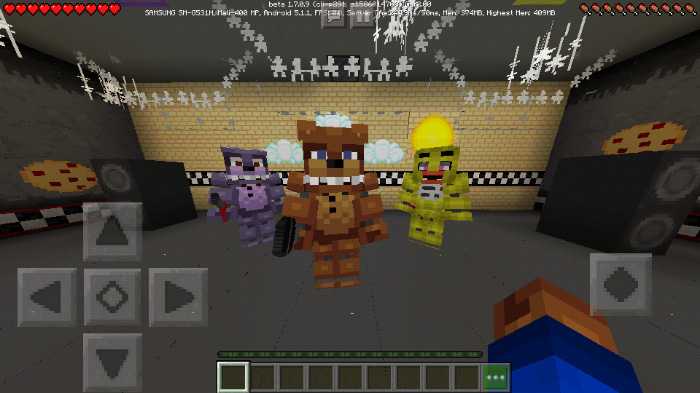 Some other features are planned to be added in future updates of the map. One of them is multiplayer, so you'll be able to survive during 5 nights with your friend! Animatronics will become even smarter, so it will be much harder to survive all the 5 nights and win.
Download map Five Nights at Freddy's for Minecraft Bedrock Edition 1.7 for Android from our website and share it with our friends. Don't forget about the other sections, where you can find great
Mods
,
Skins
and
Texture Packs
for
Minecraft PE
! Leave your feedback and have fun!
We are in social networks