Map Rubix Cube! 1.13
All clever kids must have a Rubik's cube and those who also like Minecraft PE definitely should install
Map Rubix Cube!
to improve their skills while using their gadgets.
This map was created by Better United and his team including Sammy, Zer0, 0t0, and TGC. All these hard-working guys made a great job at bringing the famous Rubik's cube to Minecraft. The idea of this wonderful project was inspired by a video posted by SethBling on YouTube.
How does map Rubix Cube! work
The Rubik's cube brought by this map is not difficult to use, but you will need all your concentration to solve it.

You will be given four custom blocks, with the help of which you can carry out different operations:
Rotate Clockwise Block will rotate the side the cube is placed on in a clockwise direction.

Rotate Counterclockwise Block is meant to rotate the above-mentioned side in the opposite direction.

The Scramble Block is meant to scramble your cube. In case it does not scramble properly from the first time, put it down and wait for a while for it to stop the process.

The Reset Block will reset your Rubik's cube to its initial state (solved).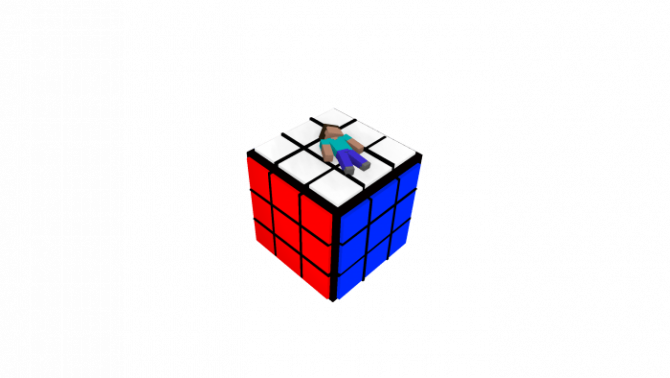 To get a clearer idea of how this map works, take a look at the video trailer below, or even better, download it by clicking on the button below the article.
If you liked playing at Map Rubix Cube!, share it with your MCPE friends and leave feedback.
For other interesting
maps
, visit our
website
. Here you will also find dozens of new
mods
,
texture packs
, and
seeds
, but most importantly, you will have the opportunity to read detailed information and download the
latest Minecraft Bedrock versions
.
Video Trailer of Map Rubix Cube!
We are in social networks