Map SG Rainbow Runner 1.10
Do not get the illusion that if rainbows, jumping and running are usually connected to childhood innocence the
SG Rainbow Runner
is going to be an easy kids' game. You will have to run, as well as avoid falling or being kicked off by other players during the process.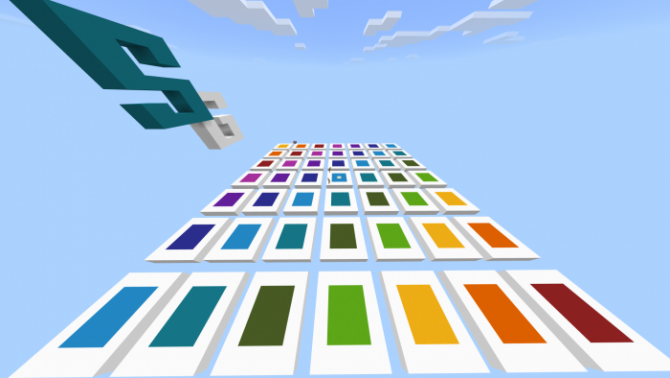 How does map SG Rainbow Runner work
The map offers you and the other players (since it is a PvP map) an island made of colorful blocks. You will have to run on these blocks as fast as you can in order to be the first to get the winner prize: a Rainbow Block. In case you succeed, you will become the Rainbow Runner. Becoming the Runner is not going to be easy at all, because the islands you will have to race on have the ability to float and rotate. Moreover, you are risking to fall off between the colored blocks while running.
Anyway, let's pretend you did get through all the challenges and became the Rainbow Runner. Further, your aim will be to kick off the rest of the players from the island and theirs to protect the floating rainbow Block. If any of them is fast and brave enough to get it, he/she becomes, in turn, the Rainbow Runner.
If you want to test your speed and abilities with SG Rainbow Runner, download it by clicking below, leave feedback and share with friends. For other new and interesting
maps
, as well as
mods
,
textures
and much more, visit our
website
.
In addition to this, you will have the chance to read about and download the latest versions of
Minecraft Pocket Edition
.
We are in social networks